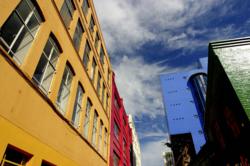 Birmingham feels like a city that has some big plans and is on the cusp of big things
Birmingham, UK (PRWEB UK) 8 April 2013
Online fashion retailer ASOS is recruiting in Birmingham to fuel its global growth plans.
Famed for its fashion forward designs, ASOS is recruiting 20 senior positions in the city. The roles will focus on creating new company websites, tailored to the needs of consumers in growth markets including France and Germany. The number of roles in Birmingham could rise to around 50 over the next 12 months.
The company is opening a new Birmingham office at The Custard Factory in Digbeth – its first regional office outside the South East. The news comes a week after ASOS posted strong trading results for the three months to 28 February 2013. Retail sales were up 37% year on year, resulting in first half retail sales growth of 34% to £352 million.
It is ASOS' international trading success however, which grew by 45% and now accounts for 59% of total retail sales, that is fuelling its Birmingham office opening.
Taking advantage of one of the UK's largest digital sector talent pools and a growing specialism in e-commerce across the city, ASOS is confident of the key role Birmingham will play in its international expansion plans.
Pete Marsden, Chief Information Officer for ASOS, said of the expansion into Birmingham:
"As a company ASOS has grown, despite challenging economic times, because of the innovative approaches we take to meeting our customers' demands. Our innovation comes from our people; we seek out and recruit the very best talent because we know that they are the key to our success. That is exactly what we are doing by creating a presence for the company in Birmingham.
"Last week's trading statement highlighted that ASOS' European growth is driven by strong performances in countries where the company has dedicated websites. Our new Birmingham team will work alongside our London Technology Centre to develop and tailor these sites to each market, putting it at the forefront of our future growth."
Marsden continued:
"We are an ambitious company, and are looking forward to settling into what we know is a very ambitious and talented city. Since we started our search for a new office location, our sense has been that Birmingham is a city with the talent, cost effectiveness, physical infrastructure, plans and will to help our business succeed. We've been welcomed with open arms and supported through every step by the Business Birmingham team, who we will continue to work with.
"Birmingham feels like a city that has some big plans and is on the cusp of big things. We wanted to get in there first."
Sir Albert Bore, Leader of Birmingham City Council, said:
"Birmingham's ability to attract major brands like ASOS demonstrates how the calibre of our talent pool, connected infrastructure, value for money cost base and crucially, the support services we as a city offer, is making us more competitive and enabling us to win vital business over other locations.
"As a city, we now have a very focused inward investment strategy that is delivering strong results in a competitive marketplace. Business Birmingham's work with partners to identify key sectors including digital and IT, develop the tools needed to attract growing companies within them, and then finally win them for the city is working. We must continue to invest in the channels that are delivering jobs for Birmingham.
"ASOS has recognised that Birmingham is a city where it can build its business over the long term. I look forward to counting ASOS among the city's biggest success stories."
Marek Dobrowolski, Investment Manager at the city's inward investment programme Business Birmingham – operated by Marketing Birmingham – commented:
"Birmingham is making a real name for itself as a home for digital businesses. With 40,000 students studying computer science or business in Birmingham each year, we have a strong local talent pool. Add to that our start-up friendly cost effectiveness when it comes to property and services, our quality of life and the genuine creativity that comes with our young population and the city stacks up as a genuine alternative to the traditional digital enclaves in the South East.
"We have been keen to support the company's move to Birmingham – not only is it a highly successful retailer, but it is also an attractor brand – so people want to work with and for ASOS. Its decision to open in the city will help us put Birmingham's offer for the creative and digital sectors in the spotlight."
Lucan Gray, who owns the Custard Factory, added:
"Attracting a company like ASOS, particularly given its plans to recruit senior positions, is a great win for Birmingham and for Digbeth in particular. Digbeth has great things to offer digital businesses, including an existing eco-system of hundreds of digital enterprises and a deep resource of talented and experienced recruits.
"ASOS felt at home as soon as the team saw the Custard Factory.
"Working with Business Birmingham to present a unified offer that gave ASOS what it needed has, I believe, made the difference in attracting the company to Birmingham. When all this amazing city has to offer is brought together in a single package, it makes for a compelling proposition. I believe there will be many more digital businesses that will choose Birmingham when they understand what is here."
Business Birmingham has been working with ASOS for over three months to encourage and support its move to the city. The programme's strategy to target investors in sectors where Birmingham has globally competitive strengths, such as IT and digital, has helped the city buck recent trends. In the last financial year, Birmingham attracted a 37% increase in inward investment projects, compared to a decline of 2% across the UK.
In a further show of support for ASOS, Birmingham City Council's HR team is piloting a joint recruitment programme with the growing company. This involves sharing best practice and resources, increasing collaboration, and supporting the Council's drive to increase its partnerships with the private sector.
The Birmingham city region is currently home to over 80,000 companies, with the IT and technology sector accounting for a significant and growing proportion of the city's economy, employing more than 63,000 people.
ASOS' move north forms part of a wider trend for e-commerce in the West Midlands. In a 2011 study by online auction site eBay, Birmingham was named the UK's fastest growing e-commerce city since the recession, with more than 1,000 new businesses having been set up there between 2008 and 2011, contributing over £18 million to the local economy.
The company joins e-commerce specialists Droplet and Tinyme, both of whom have decided to operate in the city over the past few months to take advantage of local knowledge in the sector.
ASOS is currently recruiting for senior software and database engineers, quality assurance analysts and development team leaders for its new Birmingham offices. Further information can be found at http://www.asos.com.
The company expects its move to Birmingham to be completed by the end of April.
ENDS
About ASOS
ASOS is a global online fashion and beauty retailer and offers over 60,000 branded and own label product lines across womenswear, menswear, footwear, accessories, jewellery and beauty with approximately 1,500 new product lines being introduced each week. Aimed at fashion forward twenty-somethings globally, ASOS attracts 19.8 million unique visitors a month (29 February 2012 15.6 million) and as at 28 February 2013 the Group had 11.1 million registered users (29 February 2012: 7.8 million) and 6.0 million active customers* (29 February 2012: 4.3 million) from over 230 countries and territories.
About Business Birmingham
Business Birmingham is the city's official inward investment programme, part of Marketing Birmingham's destination marketing strategy. Supported by the European Regional Development Fund, through the Investing in the City Region project, Business Birmingham aims to position Birmingham, the Black Country and Solihull as leading inward investment locations and major engines of UK growth. For more information, visit http://businessbirmingham.com or sign up to the newsletter.
About Birmingham City Council
Birmingham City Council is Europe's largest Council, which has a well respected People Resourcing Team (Recruitment, Career Transition, Assessment Services, Agency Staff Management and Outplacement Services) that has been recognised with a number of national awards. It regularly runs major People Resourcing activities and events within its new modern offices and has significant experience of running high volume and time sensitive recruitment centres.