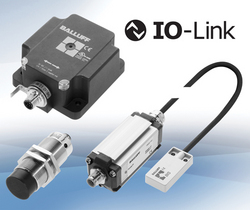 Florence, KY (Vocus) July 26, 2010
Imagine you could connect your RFID (Radio Frequency Identification) system to your network just as easily as connecting your discrete I/O -- without adding any additional cost. Balluff's new IO-Link based RFID systems do just that. The IO-Link protocol allows the user to connect a complex device such as an RFID processor to an industrial network via a gateway using standard discrete sensor wiring -- it's a simple plug and play operation.

Simplify your network topology and PLC setup by using the IO-Link block which treats the RFID data like standard I/O points.
Reduce your costs by running multiple RFID readers off one I/O block using standard, 3-conductor sensor cables (typical savings of 12% per ID point).
An example of where IO-Link–based RFID would have a significant impact would be in place of barcodes used in industrial applications like pallet assembly. RS232 barcode applications typically carry high installation costs, due to the price of the shielded RS232 cables and RS232 communication module for the PLC. There can also be additional cost for an I/O enclosure placed between the barcode readers and the PLC, because of cable length limitations of serial communication. The Balluff IO-Link solution utilizes cost-equivalent IO-Link-based RFID heads and processors, but offers 100% data reliability that the barcode readers do not. In addition, the Balluff solution can replace the I/O enclosure, four shielded cordsets, and a 4-port RS232 PLC module with a single IO-Link Expansion Module and four 3-conductor, non-shielded cordsets. Not only is the installation simplified, the cost reduced, and the data reliability improved with the Balluff solution, but there are additional I/O points made available by the Expansion Module that can be used for analog devices, pressure sensors, discrete sensors, etc. or a combination of these.
For more information about Balluff's RFID products for IO-Link, see our web page at: http://www.balluff.com/IO-Link .
Editors: See press release online and download high resolution press images:
http://www.balluff.com/Balluff/us/NewsChannel/Press+Releases/en/2010-07+RFID+for+IO-Link?pr=rfid-iolink .
Balluff Inc., the U.S. subsidiary of Balluff GmbH, Neuhausen, Germany, is a leading manufacturer of a wide range of inductive, optical, capacitive and magnetic sensors as well as linear position transducers and ID systems. Balluff products for OEM and factory floor solutions are used to control, regulate, automate, assemble, position, and monitor manufacturing, assembly, and packaging sequences for industries including metalworking, automotive, plastics, material handling, wood processing, aerospace, electrical, and electronics.
Editors: please contact Kelly Panko at 1-800-543-8390 for clarifications and additional information, or e-mail Kelly(at)panko(at)balluff(dot)com.
Direct reader service inquiries to: Kelly Panko, Balluff Inc, 8125 Holton Drive, Florence, KY, Phone 1-800-543-8390, or http://www.balluff.com .
In Canada only, contact Norman J. Clarke, President, Balluff Canada, 2840 Argentia Road, Unit # 2, Mississauga, ON L5N 8G4, Phone 1-800-927-9654 or Tel: 905-816-1494, 905-816-1411, E-mail: balluff(dot)canada(at)balluff.ca
###