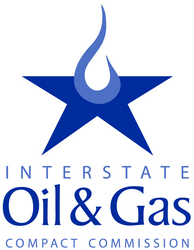 Unconventional resources are part of the solution to America's growing dependence on foreign oil
Oklahoma City, OK (PRWEB) October 6, 2008
The Interstate Oil and Gas Compact Commission (IOGCC) will address challenges affecting the conservation and efficient production of domestic oil and natural gas at its upcoming Annual Meeting in Santa Fe, NM, Nov. 16 - 18.
The 38-state commission of oil and gas producing states, chaired by Alaska Gov. Sarah Palin, will engage in extensive dialogue with government and industry experts during a Governors' Roundtable, Nov. 16, specifically focused on unconventional oil and natural gas production. Issues discussed will include unconventional reserves, technology, environmental issues, regulatory barriers, economic development and infrastructure.
"Unconventional resources are part of the solution to America's growing dependence on foreign oil," said IOGCC Executive Director Carl Michael Smith. "The states recognize there are many factors that inhibit the production of these important resources and understand the importance of bringing all parties to the table to ensure sound energy, economic and regulatory decisions are made."
Expert speakers include:

C. Michael Ming, Executive Director, Research Partnership to Secure Energy for America
Foster Wade, Deputy Assistant Secretary, Land and Minerals Management
Tom Price Jr., Senior Vice President, Corporate Development, Chesapeake Energy Corporation
Denise Hamsher, Director Public, Federal & Regulatory Affairs, Enbridge Energy Company, Inc.
In addition, commission committee sessions will provide an effective forum for government, industry and others to share information and viewpoints, allowing IOGCC members to take a proactive approach to emerging energy issues.
Such issues will include carbon capture and geologic storage, a topic in which the IOGCC has taken the lead in the development of model regulations; national energy policy; energy education initiatives; environmental and safety issues impacting oil and gas; and international perspectives.
To learn more about the IOGCC Annual Meeting, visit the IOGCC Web site. Register before Oct. 14, 2008, to receive a discount on registration.
The IOGCC is a multi-state government agency whose mission is to promote the conservation and efficient recovery of the nation's oil and natural gas resources, while protecting health, safety and the environment.
###