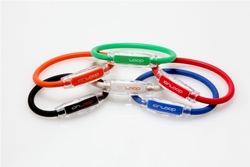 IonLoop uses Neo magents the most powerful magents known to science
(PRWeb UK) April 18, 2011
IonLoop Bracelets feature patented Ionic Regeneration technology utilising the most powerful magnetics available. Our bright and fashionable wristbands take Magnetic Therapy to the next level.
Press Release - http://www.sportsimpact.com
IonLoop
Utilising the very latest in negative Ion technology, IonLoop introduces a smart new range of negative ion silicone bracelets. Ionic Regeneration TechnologyTM is found in all IonLoop products to counteract the harmful effects of positive ions in our modern day environment. Everyone from world-class athletes to office workers are exposed to fatigue-producing positive ions and all will equally benefit from Negative Ion technology. Mobile Phones, Laptops, Gaming Consoles and all other electronic devices give off high levels of positive ions. IonLoop helps the body fight back by utilising the latest in negative ion technology.
IonLoop bracelets contain one of the highest levels of negative ion content in the industry. The negative ion properties are manufactured into the silicone bands themselves and will not lose effectiveness over time. Dual 1,000 Gauss magnets contained in the plastic "shell" enable the user to benefit from the natural effects of magnets.
Repetitive Strain Injury & Magnetic Therapy
The term Repetitive Strain Injury covers a range of Musculoskeletal related conditions that have become a common complaint in modern day life. Hand, wrist or elbow injuries are generally centred on the swelling of tendons and tissues around the muscle group. Sports injuries, writing, typing, gardening and cleaning are common causes of RSI. Whilst conventional treatments revolve around using painkillers, rest, splints and even in some cases (carpal tunnel syndrome) surgery, IonLoop will work to treat the inflammation that is causing the condition to continue.
IonLoop announces 4 new richly-pigmented colour choices; Red, Green, Orange and Blue - All available in 3 sizes, Small (16cm), Medium (19cm) and Large (21cm).
Available online at http://www.sportsimpact.com
Range: Black, White, Red, Green, blue & Orange bracelets -
Sizes: Large, Medium and Small.
Customised Bracelets available on request min order 200 pieces.
RRP £13.99 - Free shipping on orders of 2+ Ionloop
Wholesale enquiries: wholesale(at)sportsimpact(dot)com
PR Contact: Tom Beaufoy 07989383066 - tom(at)sportsimpact(dot)com
# # #