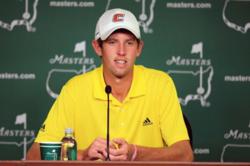 Steven's path to his win at the Amateur is amazing, this kid is the real deal!
Dallas, TX (PRWEB) April 10, 2013
Steven Fox is the reigning US Amateur Champion and, as this year's Champion, he has been extended an invitation to the 2013 Masters. He will step to the tee at 10:34 a.m. Thursday morning alongside defending Masters champion Bubba Watson and Ian Poulter of England.
Fox will be wearing an Ionloop bracelet, most probably a USA Flag bracelet that was given to him and the other 16 young players who were invited to attend a Walker Cup practice session this past December.
"We spoke to Steven at Bay Hill a few weeks ago and he claims that he wears the bracelet everyday" said Melissa Gotfredson, IonLoop's CEO. "Steven's path to his win at the Amateur is amazing, this kid is the real deal," said Gotfredson.
Fox survived a 17-player playoff to just reach the match play portion of the Amateur. That's not all…he then finds himself two down with two to play and rally's to square the match and force a 37th hole where he sinks an 18 foot birdie to complete his underdog run at Cherry Hills.
Steven Fox shares his thoughts on his first Masters Tournament with Thomas Bonk of Masters.com in this exclusive personal diary. We invite you to http://www.masters.com to learn more about this Champion. The company expects a large number of PGA Tour players to be wearing Ionloop Negative Ion + Magnet sport bracelets at The Masters but the sentimental favorite in Dallas, TX will be Steven Fox.
In today's era of ever expanding technology—UV rays, cell phones, BlackBerrys, Smart Phones, all give off high levels of harmful positive ions. IonLoop bracelets help your body fight back with negative ions—which is why many of the top professional golfers in the world choose to wear IonLoop.
The negative ion properties are manufactured into the silicone/nylon bands themselves and will maintain their effectiveness for at least two years. The original IonLoop bracelets contain two small but powerful magnets that will provide the wearer with all the beneficial effects of magnet therapy. Ionloop magnet bracelets are assembled by alternating the polarity of each magnet which we believe may be adding another dimension to the potential stimulus that the magnets may have on the chemistry of the human body.
IonLoop now offers many different models/colors; Ion/Magnet silicone bracelets, Nylon negative ion clasp bracelets, negative ion necklaces, and the new colorful IonThins negative ion bracelets.
For more information about IonLoop's technology visit http://www.ionloop.com.