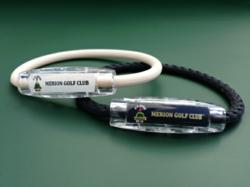 IonLoop commemorative sport bracelets will be given to professional golfers and their wives at the U.S. Men's Open at Merion, PA for the championship.
Dallas, TX (PRWEB) June 10, 2013
IonLoop has been chosen once again to provide the USGA, at Merion Golf Club, with commemorative sport bracelets for all players, spouses, USGA staff, and invited guests. Many of the finest professional golfers in the world may be seen this week wearing these U.S. Open tribute bracelets.
The IonLoop Merion logoed sport bracelets have been produced with two different band colors: white and black—each featuring the official 2013 U.S. Open logo. These bracelets are not available for purchase, and only a limited quantity have been produced. "As we have found in the prior years, this bracelet will become a most sought after collector's item by the general golf community", said Melissa Gotfredson, CEO. The company will also be represented in the on-site merchandise tent where the USGA will sell for the first time U.S. Open iPhone covers provided by IonLoop.
In today's era of ever expanding technology—UV rays, cell phones, BlackBerrys, Smart Phones, and in fact all electronic devices that we are surrounded with each day give off high levels of positive ions. IonLoop sport bracelets help your body fight back with one of the highest levels of negative ion content in the industry—which is why many of the top professional golfers in the world choose to wear IonLoop sport bracelets.
The negative ion properties are manufactured into the silicone bands themselves and will not lose their effectiveness over time. The bracelets also contain two small but powerful magnets that are carefully assembled so that they alternate the polarity of each magnet; we believe this manufacturing process may be adding another dimension to the potential stimulus that the magnets may have on the chemistry of the human body. Keep your eyes out for IonLoop bracelets during the tournament and stay in the loop!
For more information on IonLoop's technology and to view all the other creative IonLoop bracelets visit http://www.ionloop.com.