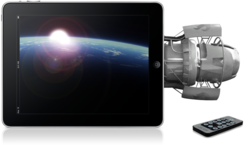 Why be weighed down by having to carry your iPad?
Oklahoma City, OK (PRWEB) April 01, 2012
Today, Oscium is thrilled to announce a new product to their line of iOS test equipment, iSpaced. iSpaced is an accessory designed to launch an iPhone, iPad, and iPod into space, orbit the planet, and return. iSpaced is the first accessory for the iOS family of products, or any personal electronic devices, to orbit the earth.
iSpaced weighs a mere two pounds, measures 4"x4"x5.3" and has a default orbiting altitude of 30,000 feet. iSpaced features an easy to use interface that allows the user to customize altitude height and inclination. The interface will adjust the orbit velocity and time based on the user defined altitude. iSpaced also comes with a remote that allows the user to initiate takeoff and landing of the iOS product. iSpaced retails for $49,990 and is available worldwide.
"At Oscium we pride ourselves in pushing the boundary of what is possible." said Bryan Lee, President of Oscium. "First we started with rethinking the oscilloscope, then the power meter, and then we had an epiphany. Why be weighed down by having to carry your iOS products? We believe that this is the breakthrough of the year."
Availability
iSpaced version 1.1.0 is available to download free in the Apple App Store. The iSpaced app is compatible with all generations of iPhone, iPod touch, and iPad devices running iOS version 3.1.3 or higher. It is made for: iPod touch (1st, 2nd, 3rd, and 4th generation), iPhone 4S, iPhone 4, iPhone 3GS, iPhone 3G, iPhone, iPad 3, iPad 2, and iPad. iSpaced hardware can be purchased for $49,990 from Oscium directly or from one of our partners. Visit us at oscium.com to purchase or for more information.
About Oscium
Oscium designs test equipment you want to get your 'hands on'. We leverage the intuitive features and touchscreen technology found in the iOS family of products (iPad, iPhone, iPod touch) making test equipment easier to use than ever. As an MFi-approved developer, Oscium interfaces with the iOS family of products through the 30-pin dock connector, making our design both convenient and practical. Oscium has created a new category in test equipment called iOS Test with the following first-to-market accessories for the iPhone (and iPod touch, iPad) including:
iMSO-104 (mixed signal oscilloscope)
WiPry-Combo (combination spectrum analyzer & dynamic power meter)
WiPry-Power (dynamic power meter)
WiPry-Spectrum (spectrum analyzer)
The future of test equipment is at oscium.com
Oscium, the Oscium logo, iMSO, WiPry, Innovation for Inventors, and iOS Test are registered trademarks of Dechnia, LLC. All other trademarks are property of their owners.