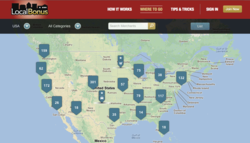 We are excited to make these announcements which mark important milestones for us.
New York, NY (PRWEB) November 15, 2012
LocalBonus, the New York-based startup, is announcing the launch of a new iOS app to make it even easier for customers to earn rewards for supporting local businesses. They are also announcing their expansion to five new markets (ten total), and that they're already live at over 1,200 merchants.
The iOS app includes features such as:

Easy sign-up process. Members can simply take a photo of their credit or debit card to automatically turn it into a rewards card. (Card.io's API is helping to power this feature)
Find, view and share merchants near you (including Yelp reviews)
Check your point balance and track your progress towards great rewards
The markets now include:

Chicago*
Denver
Fort Lauderdale*
Kansas City*
Los Angeles*
New York City
Norfolk*
Portland
Sacramento
Seattle
new markets announced today
"We are excited to make these two huge announcements which mark important milestones for us," said Derek Webster, Founder and CEO of LocalBonus. "We're committed to rewarding consumers for shopping locally, and helping local businesses develop new and repeat customers. These two announcements demonstrate great progress made by the entire LocalBonus team."
With LocalBonus, consumers automatically earn rewards just by paying with their existing credit/debit cards. Once signed up, there's no need to carry a special card, pull out a mobile phone, or remember to "check in" every time. Unlike traditional local loyalty programs or punch cards, LocalBonus members can pool their earnings across all 1,200 merchants in their network. This universal currency makes it easier for consumers to earn rewards quicker.
To power the program, LocalBonus has built their own PCI-compliant backend and signed partnerships with multiple aggregators and payment processors, including Cardspring. This allows them to support 95+% of all merchants without them needing to make any changes at the point-of-sale or to their credit card processing.
Earlier this year, LocalBonus graduated from Entrepreneurs Roundtable Accelerator (http://www.eranyc.com), a leading startup accelerator in New York City.
About LocalBonus
LocalBonus allows consumers to use their existing credit & debit cards to automatically earn cash back rewards at local businesses. Consumers connect their existing cards to LocalBonus once, and automatically earn points towards cash back rewards with every purchase at over 1,200 different merchants. Participating merchants get an easy way to attract and retain customers without having to offer deals or discounts, no POS integration, and no employee training. They are headquartered in New York City, with merchants in Chicago, Denver, Fort Lauderdale, Kansas City, Los Angeles, New York City, Norfolk, Portland, Sacramento, Seattle. For more information on LocalBonus, contact info(at)localbonus(dot)com or visit http://www.localbonus.com or https://itunes.apple.com/us/app/localbonus/id568889389?mt=8 to purchase the new app.