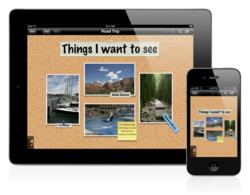 Corkulous is now a powerful collaborative tool for groups of people to visually share their ideas using their iPhone, iPod touch, and iPad.
Orem, UT (PRWEB) November 22, 2011
Appigo, Inc. today announced that Corkulous™, its idea board, is now a "Universal" app available for iPhone and iPod touch users. The update also includes support for Dropbox and iCloud. Introduced last year on the iPad, Corkulous gives users incredible new ways to collect, organize and share their ideas.
"Corkulous is no longer an app for individual use only," said Calvin Gaisford, Appigo's CEO. "Corkulous is now a powerful collaborative tool for groups of people to visually share their ideas using their iPhone, iPod touch, and iPad."
Corkulous is a virtual cork board app for iOS. It provides items such as photos, notes, and labels which can be used to organize ideas onto a large cork board. As a multi-purpose app, Corkulous is used for brainstorming, planning, and anything else commonly used on a real-life cork board.
Document collections, a new feature of Corkulous, gives users three different places to keep their Corkulous documents: on their device, in iCloud, or in a Dropbox folder. These locations are supported simultaneously.
iCloud, a service recently launched by Apple, automatically updates document changes between a user's iOS devices. When a Corkulous document is modified and stored in iCloud, no additional effort is required by the user to access the same document from another device.
Dropbox support in Corkulous makes sharing ideas with other people significantly easier than previous versions of the app. Using a shared Dropbox folder, teams can work together on the same Corkulous documents. Changes are synchronized through Dropbox to other users' devices.
Inspired by Steven Levitan, executive producer of ABC's Modern Family television comedy series, index cards are now included in Corkulous. Index cards are commonly used by screenwriters, such as Levitan, to storyboard ideas for segments of TV shows and movies. Corkulous now includes arrow flags, which can be rotated and attached to other items on a user's cork board document.
Corkulous continues to be Appigo's best rated app on the iTunes App Store.
Pricing & Availability:
Corkulous is available on the iTunes App Store for $4.99 (USD). Corkulous requires iOS 5.0 or later. Corkulous requires an Internet connection when using iCloud and Dropbox which may incur separate fees (contact your Internet Service Provider or cellular data provider for specific details).
iCloud is a service provided by Apple to iOS users which stores Corkulous documents and wirelessly pushes them to a user's iOS devices.
Dropbox is a third party service and currently offers basic accounts free. Dropbox is available at: http://www.dropbox.com/
Media Kit:
A media kit is available on the Appigo Website and includes hi-res app icons and screenshots.
About Appigo:
Appigo develops high quality applications including Todo (powerful task management), Corkulous (ideas at your fingertips), Notebook (notes available everywhere), and AccuFuel (fuel efficiency tracker). With many years of experience in mobile and desktop computing, networking and user interface design, the Appigo team builds enjoyable software. The products created by Appigo quickly gain favorable reviews worldwide. For additional information about Appigo and their products, including full demonstration videos, please visit their website.
Todo is a registered trademark of Appigo, Inc. Appigo, Todo (for Mac, iPhone, and iPad), Todo Online, Corkulous, and the respective app icons are trademarks of Appigo, Inc. Copyright 2008-2011, Appigo, Inc. All rights reserved. Apple, Macintosh, Mac OS, the Apple logo, iPod, iPod touch, iTunes, and iCloud are trademarks of Apple Inc., registered in the U.S. and other countries. iPad and iPhone are trademarks of Apple Inc. App Store is a service mark of Apple Inc. Other company and product names may be trademarks of their respective owners.
###