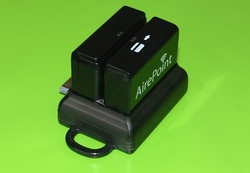 This kit will save months of development time and can knock off thousands of dollars from new project start-up costs.
Parker, CO (PRWEB) September 17, 2010
Credit card processing using iPhone Operating System (iOS) devices is a rapidly growing industry and merchants have many apps to choose from, several with card swiping capabilities. But only the AirePoint credit card reader and Software Development Kit (SDK) from Global Tek Labs offers developers and Independent Sales Organizations (ISOs)/Merchant Service Providers (MSPs) the chance to integrate an approved accessory into their own custom app.
The AirePoint SDK can save developers as much as 3 months of time on their projects. How so? First, using the sample project, even a novice developer can read track data into their app within an hour. Extensively documented source code explains what's going on.
Second, a developer doesn't have to become a hardware developer or join Apple's MFi program to get a hardware license. The process of joining, providing the necessary business details, etc., can also take up to a month. Essentially, the AirePoint SDK allows developers to "license" the already approved hardware accessory, the AirePoint card reader.
Finally, up until recently, there was a one-to-one correlation for iPhone accessories to apps. This meant that if a company wanted a new app for the same piece of hardware (accessory) they'd have to create a new product even if it was essentially the same as one currently available. The procedures for this process, which included several sets of testing and documentation, took another month or so of time before a product could reach the market. Now, Global Tek Labs simply adds these new apps to the AirePoint approved app list, essentially granting developers, ISOs and MSPs a license to work with the AirePoint card reader.
The AirePoint SDK includes one engineering model AirePoint credit card reader that bears the MFi/WWi logo with the same iOS interface as production units, but without some production level features. In addition, developers can provide a bundle seed identifier and customized protocol string so they can test their own applications. Also included are a set of notes for the installation and use of the project, a copy of the Apress book "Building iPhone OS Accessories", and 30 days of email technical support.
The SDK also includes a working IOS project with embedded documentation that shows developers how to access swipe data from the reader. The SDK grants the developer license to use the source code in any way they see fit. However, in all cases developers will need to modify the source code to meet the needs of their solution. What the AirePoint SDK provides is a great starting point.
The AirePoint SDK saves developers and ISOs/MSPs time and money, and is the perfect solution for joining the iOS merchant processing revolution. The AirePoint SDK retails for $2000 plus shipping and handling and is available immediately.
###