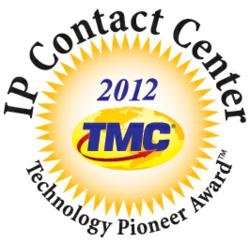 "TMC is pleased to honor IntelliResponse with an IP Contact Center Technology Pioneer Award for bringing superior, groundbreaking technologies to market while providing high quality and advanced applications."

- Rich Tehrani, CEO, TMC
Toronto, ON (PRWEB) July 09, 2012
IntelliResponse Systems, the leading provider of virtual agent technology solutions that drive profitable online conversations, announced today that TMC has named IntelliResponse as a recipient of the 2012 IP Contact Center Technology Pioneer Award from Customer Interaction Solutions, the leading publication in CRM, call center and teleservices industries since 1982.
The 2012 IP Contact Center Technology Pioneer Award honors companies that have produced an innovative, successful IP contact center product or service.
"Technology is the key to the success of any contact center. This award program acknowledges the achievers in the advancement of contact center technology and distinguishes the best in the IP contact center technology," said Rich Tehrani, CEO, TMC.
"TMC is pleased to honor IntelliResponse with an IP Contact Center Technology Pioneer Award for bringing superior, groundbreaking technologies to market while providing high quality and advanced applications," continued Tehrani.
"Some of the best organizations rely on advancements in contact center technology to help drive efficiencies and improve customer service levels," said Mike Hennessy, Vice President, Marketing at IntelliResponse. "We help our clients take this one step further by equipping organizations with an enterprise virtual agent solution that engages their customers in intelligent, profitable conversations. The solution facilitates immediate, relevant, and engaging customer interactions with the ultimate goal of achieving task completion and information exchange across all channels - web, mobile, or social media, as well as the agent desktop."
Winners of the IP Contact Center Technology Pioneer Award will be published in the June 2012 issue of Customer Interaction Solutions magazine.
Follow IntelliResponse on Twitter @IntelliResponse and on Facebook at http://www.facebook.com/IntelliResponseInc
About IntelliResponse Systems
IntelliResponse is the leading provider of virtual agent technology solutions for the enterprise. We create profitable online conversations for our private and public sector customers around the world. With our patented Enterprise Virtual Agent (EVA) solutions, corporate websites, mobile applications, social media channels and agent desktops can all be transformed by an engaging virtual concierge, empowering customers to ask questions using natural, conversational language and delivering an effective and engaging online experience.
IntelliResponse enhances the multi-channel sales and customer service capabilities of hundreds of enterprise businesses with its patented, award winning virtual agent technology. With more than 360 live customer-facing implementations answering 100 million+ questions annually, IntelliResponse is the gold standard in first line customer experience management. For more information about IntelliResponse, visit http://www.intelliresponse.com.
About Customer Interaction Solutions
Since 1982, Customer Interaction Solutions (CIS) magazine has been the voice of the call/contact center, CRM and teleservices industries. CIS magazine has helped the industry germinate, grow, mature and prosper, and has served as the leading publication in helping these industries that have had such a positive impact on the world economy to continue to thrive. Through a combination of outstanding and cutting-edge original editorial, industry voices, in-depth lab reviews and the recognition of the innovative leaders in management and technology through our highly valued awards, Customer Interaction Solutions strives to continue to be the publication that holds the quality bar high for the industry. Please visit cismag.com.
About TMC
TMC, celebrating its 40th Anniversary in 2012, is a global, integrated media company that helps clients build communities in print, in person, and online. TMC publishes the Customer Interaction Solutions, INTERNET TELEPHONY, Next Gen Mobility and Cloud Computing (formerly InfoTECH Spotlight) magazines. TMCnet.com, which is read by 1.5 million unique visitors each month, is the leading source of news and articles for the communications and technology industries. TMC is the producer of ITEXPO, the world's leading B2B communications event. In addition, TMC runs multiple industry events: including Mobility Tech, M2M Evolution, ChannelVision Expo, MSPWorld, Super WiFi, SUITS, LatinComm, HTML5 Summit Conferences and more. Visit TMC Events for a complete listing and further information.
IntelliResponse Contact:
Dwayne Weppler
IntelliResponse Systems Inc.
416-214-9337 ext. 282
Email: dwayne.weppler(at)intelliresponse(dot)com
TMC Contact:
Jan Pierret
Marketing Manager
203-852-6800, ext. 228
Email: jpierret(at)tmcnet(dot)com