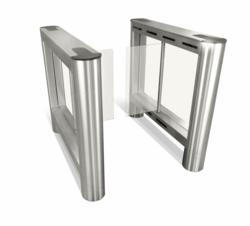 We're proud to be at the forefront in providing IP-enabled entrance security solutions for our industry....with Fastlane Connect, we continue to deliver new and meaningful benefits.
Austin, TX (PRWEB) March 22, 2012
Smarter Security, Inc., provider of premium, innovative entrance control and outdoor security solutions, has again raised the bar in security technology innovation, announcing the launch of Fastlane Connect, which brings TCP/IP communication and control to the company's Fastlane optical turnstiles. IP connectivity is a significant technology enhancement that streamlines the operation, service and support of installed lanes. Smarter Security will debut Fastlane Connect IP technology at ISC West, happening March 28-30 in Las Vegas.
"Enabling our customers to bring their Fastlane turnstiles online for remote configuration and support is a significant leap forward from a technology perspective, and we're proud to be at the forefront in providing IP-enabled entrance security solutions for our industry," said Jeff Brown, CEO of Smarter Security. "Thousands of customers across six continents trust the Fastlane brand to provide superior, reliable technology for optimal lobby security and with Fastlane Connect, we continue to deliver new and meaningful benefits."
Smarter Security's Fastlane GlassGate™ 150 is now shipping with Fastlane Connect IP technology embedded as an optional feature for customers. TCP/IP communication and control of Fastlane turnstiles will help reduce the cost of operating and servicing the units. Authorized employees on a company's network can remotely access the IP-connected turnstiles for service details without having to open the units' pedestal cases. With network administrator permission, the turnstiles can be accessed over the internet by integrators and Smarter Security technicians to provide remote diagnosis and adjustments. Additionally, IP connectivity turns any computer, tablet or smartphone into a remote console, which allows security staff to authorize visitor entry or exit and adjust standard operating modes. Since they're network devices, the IP Fastlane turnstiles can plug into any management console to simplify and centralize security controls.
Fastlane Connect also provides customers with performance benefits for their turnstiles. Since technicians can remotely obtain diagnostic information for IP-connected units, they can more proactively identify performance issues which may have been unknown to a customer and require attention. Further, with online access to turnstiles, Smarter Security can automatically push out firmware updates to enhance a unit's performance and extend the nascent IP capabilities.
Smarter Security will provide demos of its IP-enabled Fastlane GlassGate 150 during ISC West (booths 13101 and 12101), along with displays of several other optical turnstiles, perimeter security solutions and the company's Door Detective for enhanced door security.
During ISC West, Smarter Security will also unveil the company's new Quick Ship program, initially available only for GlassGate 150. With Quick Ship, customers who order a standard turnstile design with no customization will have their Fastlane optical turnstiles delivered within two weeks. This is a significant improvement upon current lead times for both standard and custom turnstile units and will not require special approvals or incur any added costs for the customer.
In coming months, additional Fastlane models from Smarter Security will be updated with Fastlane Connect and also added to the company's Quick Ship program according to market demand. For more information regarding Fastlane Connect, please visit: http://www.smartersecurity.com/entry-security/ip-capability.
About Smarter Security, Inc.
Smarter Security provides premium and innovative entrance control and outdoor security solutions to help organizations protect their people and assets in a world of ever-present threats. Since 1992, Smarter Security has offered Fastlane turnstiles, the most elegant and intelligent optical turnstiles available, which protect thousands of commercial and governmental lobbies on six continents. Smarter Security also offers perimeter intrusion detection systems, including SmarterFence, a fiber optic fence-mounted sensor. For more information, please visit http://www.smartersecurity.com.
# # #