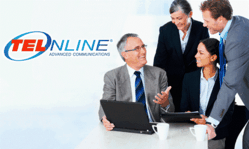 Cold spare appliance solution offers Pelikan Colombia the security and assurance of having their critical data safely backed up.
Bogota, Colombia (PRWEB) July 31, 2012
Today Pelikan Colombia SAS announced that TelOnline, a leading telecommunications solutions company, has implemented a customized solutions that enhances their internal and external IP telephony communications system by implementing a Switchvox AA305 that includes cold spare appliance.
The Digium Switchvox SMB AA305 is an affordable and unified communications solution that gives businesses the ability to improve office communications. It is designed for medium-sized business that want a high performance, highly redundant, full feature rack mountable IP PBX. This solution supports up to 150 users, up to 45 concurrent calls, up to 10 simultaneous call recordings and up to 15 simultaneous conference calls participants.
Switchvox AA305 is easy to set up and manage. It has real time Switchboard for every user. Switchvox can be managed through web interface and through smart phones like Blackberry, iPhone & Android. It can be used with a company's existing SIP telephones and hardware, resulting in lower costs than with a traditional business phone system. It's the ideal solution for businesses seeking a full feature set and powerful functionality.
This solution also includes an optional cold spare appliance, allowing Pelikan Colombia to have an identical backup system to the primary Switchvox appliance. In the event that the primary appliance is unavailable for any reason, the cold spare is on-site to easily replace the primary appliance and minimize downtime.
"Cold spare appliance solution offers Pelikan Colombia the security and assurance of having their critical data safely backed up," stated TelOnline's President Juan Carlos Castañeda. "It will get them up and running as fast as possible, as if nothing had gone wrong."
Pelikan Colombia is committed in improving their technology process. "The satisfaction and growth of our customers are our greatest commitment, hence the importance of an IP telephony solution that allows us to take advantage of new technologies to improve communication to and from our customers, creating synergy that allow us to strengthen our ties and achieve our corporate goals," stated Pelikan's IT Manager Victor Taborda.
About Pelikan Colombia SAS
Pelikan, a renowned German manufacturer company of writing and drawing instruments for schools and offices, is a brand that has over 175 years of being known as one of the oldest trademarks in the world and has more than 52 years of brand presence in Colombia, where it is recognized as a brand of tradition and quality "Time and Style are perishable, the brand is unalterable" is its corporate slogan. For more information please visit http://www.Pelikan.com
About TelOnline
TelOnline is a company that offers and consults specialized solutions in telephony. The tailored solutions include VoIP telephony, iPBX, call centers, automatic dialers, recording systems, embedded software development for telephony, integration and assembly of CRMs, video conference and more. TelOnline is a selected partner of Digium, Asterisk makers, as well as numerous strategic business partner alliances within the industry. TelOnline is committed to providing the best products and services to markets in Latin America and the United States. Our team is highly experienced in commercial, development and support engineers. If you would like more information about TelOnline, please visit http://www.Telonline.com or call USA +1(954)894-6181 or call Colombia +57(1)325-9832.
###