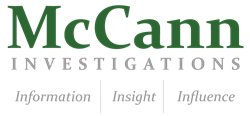 Our Dallas investigators are committed to providing their clients with the comfort in knowing that they have experienced and highly skilled investigators working to solve their intellectual property theft issues
Dallas, TX (PRWEB) September 12, 2013
McCann Investigations, a firm operating out of Dallas that specializes in a variety of areas of digital security and private investigations, recently announced that it offers a range of intellectual property theft investigation services.
In law and digital security, intellectual property is considered to be any type of commercial or artistic idea, concept or innovation. Examples could include a specific formula or recipe for a product, brand images or logos, trademarks, copyrights, original created content and any type of other creation to which a person can claim rights of intellectual ownership.
"At McCann Investigations, we understand the importance of intellectual property to every business and individual," said Daniel Weiss, Managing Partner at McCann Investigations. "Our Dallas investigators are committed to providing their clients with the comfort in knowing that they have experienced and highly skilled investigators working to solve their intellectual property theft issues and prevent them from ever arising again."
Intellectual property theft is a crime that is unfortunately very common and easy to pull off. In many cases, the victims do not notice the crime until the perpetrator has already greatly benefitted from it. The crime can range from simple plagiarism to advanced network hacking to discover critical information. Perpetrators could include current or former employees or competitors looking for an edge in the industry.
McCann's Dallas digital security specialists analyze data breaches and pinpoint vulnerable areas within networks. They also monitor channels through which critical company information passes to track down the source of the crime.
"Our goal is to make sure that nobody else profits off of the hard work of another," said Weiss. "We encourage businesses or individuals who feel that their intellectual property has been stolen to contact us and seek out our services."
For more information about the services provided by McCann Investigations in the Dallas area, visit the company's website at http://www.mccanninvestigations.com and follow the company on Twitter at @mccangi.
About McCann Investigations
McCann Investigations is a Texas-based private investigations practice focused on comprehensive investigations incorporating digital forensics, surveillance, undercover work and background checks for clients in various case types. Service areas include intellectual property theft, non-compete enforcement, fraud, embezzlement and family law. McCann Investigators are experts in the latest computer forensics tools and are licensed with the state of Texas. McCann examiners have provided expert testimony and reporting in hundreds of cases across the state.