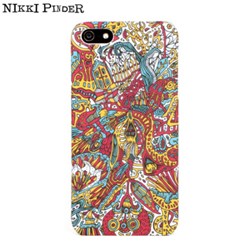 Unique and stylish, the Nikki Pinder iPhone 5 cases keep the iPhone looking bold and one step ahead of the trend.
Birmingham, West Midlands (PRWEB UK) 27 February 2013
Mobile Fun, the UK's leading online retailer of mobile phone accessories are pleased to announce that they're stocking the Nikki Pinder iPhone 5 cases. The cases are available now via the Mobile Fun website.
Known for her illustrating and design work, Nikki Pinder creates bold and bright images which are both unique and highly stylish. Each Nikki Pinder iPhone 5 case has the image printed onto the hard case using specialist technology which ensures that the design of the case looks fantastic from all angles and never fades.
Manufactured from a hard wearing material, the iPhone 5 cover protects the smartphone from daily bumps, drops, scrapes and scratches so that it remains looking newer for longer. The shell of the case covers the back, sides and corners of the iPhone 5 protecting the most vulnerable areas from any damage. Even better, the cases don't add a lot of bulk to the iPhone either, instead they enhance the look of the Apple smartphone.
As the Nikki Pinder cases are created with the iPhone 5 in mind, each case contains cut outs for all the vital ports and features of the smartphone, including the camera, headphone jack and charging port. This means that the iPhone can still be used whilst the case is attached, therefore it is always protected and functional.
Stylish and standing out from the crowd, the Nikki Pinder iPhone 5 case range is available now from Mobile Fun.
-ENDS-
About Mobile Fun
Birmingham based MobileFun.co.uk is the UK's biggest online retailer of mobile phone accessories, sim free phones, tablet accessories and e-reader accessories.
Mobile Fun has offices in the UK, USA, Germany, Spain and France and delivers products to over 50 countries worldwide.
Mobile Fun were recently named the 'Best Accessory Retailer' 2012 at the What Mobile Awards and won the title of Online Retailer of the Year' at the Mobile News Awards 2012 for the second year running.