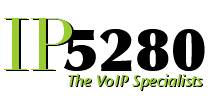 "The IP5280 SuperNode is supercharged with 40 lambda wavelengths of capacity," said Jeff Pelletier, CTO of IP5280
Denver, CO (Vocus/PRWEB) February 22, 2011
IP5280 Communications today announced the completion and immediate availability of its VoIP SuperNode, the industry's first ultra-low-latency high-capacity business VoIP private network node provided by a nationally leading internet telephony service provider. The SuperNode is delivered over Level 3 Communication's (NASDAQ: LVLT) low-latency network routes across the U.S. and Europe, enabling IP5280 to offer direct on-net coverage to businesses in those regions.
The SuperNode is built inside the IP5280 CLOVER - IP5280's cloud-based computing platform. CLOVER's patent-pending architecture leverages a network of best-of-breed feature servers – including Broadsoft, Microsoft OCS and open source – to deliver optimal performance, increased redundancy and enhanced customization capabilities at a lower cost point.
The IP5280 SuperNode is supercharged with 40 lambda wavelengths of capacity, or 400 Gbps of capacity at its direct disposal. The network design includes a direct OC-192 SONET connection directly into IP5280's fully owned and maintained co-location CLOVER POP (Point-of-Presence) located in the Denver area, centrally accessing Level 3's global network. IP5280 offers a portfolio of advanced Voice over IP (VoIP) services including high-definition voice, unified communications, CRM integration and multi-point video conferencing.
"The IP5280 CLOVER architecture is one of the most robust cloud-computing networks in the IP telephony market today. Our enterprise customers rely more heavily everyday on our IP network for the real time support of sophisticated applications including voice and video, and it is crucial for us to partner with Level 3 for their global reach and service quality," said Jeff Pelletier, CTO of IP5280."
About IP5280 Communications
IP5280 Communications is a next-generation global unified IP communication provider specializing in VoIP and converged IP voice, video and data services for business customers. Trusted by thousands of business enterprise users, communication agents, partners and wholesalers of IP managed services throughout the world; IP5280 offers carrier-class communications for businesses large and small, with significant savings over traditional phone company business services. Recognized by Inc. Magazine as a part of the prestigious 2010 Inc500 list as one of the country's fastest growing companies, selected by ColoradoBiz Magazine as one of top 2 Best Companies to Work For in Colorado, and proudly ranked by the magazine as a part of the elite Colorado TOP250 Private Companies in Colorado, IP5280 provides businesses the most advanced IP solutions to meet a variety of networking needs. See more at http://www.ip5280.com.
About Level 3 Communications
Level 3 Communications, Inc. (NASDAQ: LVLT) is a leading international provider of fiber-based communications services. Enterprise, content, wholesale and government customers rely on Level 3 to deliver services with an industry-leading combination of scalability and value over an end-to-end fiber network. Level 3 offers a portfolio of metro and long-haul services, including transport, data, Internet, content delivery and voice. For more information, visit http://www.level3.com.
###