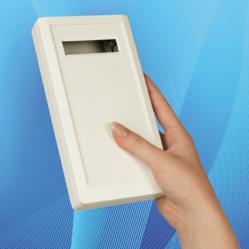 New antimicrobial protection is a major step forward for these ABS IP rated enclosures.
The active substance is added to standard ABS using an inert carrier – allowing a controlled release of protective ions.
Fareham, Hampshire (PRWEB UK) 16 May 2012
OKW has increased the number of customisation options available for its already large range of award-winning DATEC-MOBIL-BOX IP65 enclosures.
On request, designers can now specify DATEC-MOBIL-BOX plastic enclosures in antimicrobial ABS which helps to protect users against infection from HIV, influenza, fungi and algae.
The antimicrobial protection is built into the enclosures at a molecular level and makes DATEC-MOBIL-BOX hand held enclosures ideal for sectors such as medical and wellness or food production.
OKW Sales and Marketing Director Robert Cox said: "New antimicrobial protection is a major step forward for these ABS IP rated enclosures.
"The active substance is added to standard ABS using an inert carrier – allowing a controlled release of protective ions," he added.
Other options for these custom enclosures include:

bespoke cutouts for custom displays, an increasingly popular choice among electronics designers
water transfer printing and digital printing – giving a vast choice of futuristic finishes such as fine art, snakeskin, dollar bills or zebra print
textured lacquering to provide tactile finishes such as leather-effect or suede-effect.
OKW's DATEC-MOBIL-BOX range has been used successfully over the years for thousands of different types of hand held electronic devices. This popular range of plastic enclosure boxes has been extended and updated regularly to meet demand for new sizes and options.
The Hanover Fair award-winning DATEC-MOBIL-BOX ABS enclosures set the industry standard for attractive yet functional hand held and desktop cases.
They are extremely versatile, making them popular in a broad spectrum of applications including mobile data recording and transfer; test and measurement; instrumentation; stock and sales logging and digital control technology.
Their IP65 protection rating and robust design makes these electronic enclosures particularly suitable for use in harsh environments.
In total, there are now 28 versions of DATEC-MOBIL-BOX, including models without a battery compartment. These provide extra space for applications which have larger and more heavily populated PCBs.
Versions with LCD windows have been designed to accept industry standard LCD modules from a broad range of manufacturers including Hitachi, Sharp, Vikay and Varitronix.
The window versions make it very simple to turn DATEC-MOBIL-BOX industrial plastic enclosures into the finished product without the need for extensive machining.
But with customisation becoming more readily available at lower volumes, more and more designers are specifying bespoke cutouts to accommodate the latest generation of displays.
DATEC-MOBIL-BOX is available in sizes ranging from 152 x 83 x 33.5 mm to 252 x 121 x 50 mm. Prices start at £22.
All models are available in ABS (UL 94 HB) in two standard colours – Black RAL 9005 and Off-white RAL 9002 – but the range of custom colours is infinite.
Other options include silk-screen printing, EMC shielding, special tilt stands, machining and much more.
Features of DATEC-MOBIL-BOX IP65 enclosures:

Hand held enclosures for mobile electronics
Ergonomic profile makes them comfortable to hold
Protection Class – up to IP65 (with optional sealing gasket)
Windows for standard LCD modules
Size S and L models with/without battery compartment
Size M with battery compartment lid only – battery holders ordered separately
Battery compartments hold 1.5V AA or 9V cells
Top recess for mounting membrane keypads
Internal screw pillars for mounting PCBs
Material – ABS (UL 94 HB), antimicrobial ABS available as an option
Standard Colours – Off-white, RAL 9002, or Black, RAL 9005
Accessories – battery contacts, IP65 sealing kits, acrylic windows, wall holders, tilt foot bars, TPE rubber protector.
Other hand held PCB enclosures designed and manufactured by OKW include:
BLOB – a revolutionary new range of highly ergonomic and intuitive enclosures that 'teach by touch', guiding the users' fingers to the correct control buttons. BLOB is available in three highly versatile designs, UNIT, CONTROL and PANEL.
CARRYTEC – a new range of IP54 instrumentation cases with strong but soft touch carrying handles moulded into the design to make them more robust than traditional retrofitted handles. Their tamper-proof screws, bed clamps and rail fittings make them an obvious choice for the medical and wellness sector.
DATEC-CONTROL – hand held enclosures designed specifically to accommodate large LCD displays, available as IP54 or IP65 enclosures.
DATEC-POCKET-BOX – thin profile IP41 and IP54 hand held enclosures with battery compartments for N, AA, AAA and 9V batteries. Infrared versions in PMMA Plexiglass enable them to be used as remote control units.
ERGO-CASE – body-contoured IP54 enclosures that can be hand held, clipped to a belt, worn on the wrist or mounted on a wall.
For more information about all these ranges of IP rated enclosures, view OKW's website or contact Sales and Marketing Director Robert Cox, +44 (0)1489 583858.
Notes For Editors
OKW ENCLOSURES LTD
15 Brunel Way
Segensworth East
Fareham
PO15 5TX
Tel: +44 (0)1489 583858
Fax: +44 (0)1489 583836