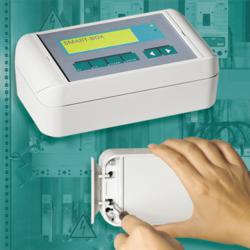 The SMART-BOX range is proof that tough high performance enclosures can still be attractive, enhancing the value of the electronics equipment that they protect.
Segensworth, Hampshire (Vocus/PRWEB) 13 April 2011
OKW has extended its highly successful SMART-BOX range of advanced IP66 enclosures to meet growing demand across a wide range of sectors.
These highly attractive and versatile plastic enclosures have been designed to meet the needs of ever more challenging applications in modern industrial electronics.
Typical applications for these weather proof enclosures include heating and air conditioning controllers, monitoring systems, safety and security equipment and test and measurement devices.
Design engineers will appreciate the many unique design features of the SMART-BOX IP66 enclosures series. The case fixings screws and wall mounting shafts are hidden behind two hinged trims fitted in the lid. The lid trims open wide to allow screwdriver access and are then clipped into the closed position. As a result, no visible fixings can be seen once the unit is mounted on the wall or machine.
These ABS enclosures are flame retardant and rated to UL 94 V-0. The standard colour is light grey (RAL 7035) and – uniquely for this type of enclosure – the cases have a modern fine-textured surface finish.
Internal screw pillars are moulded in the top and base parts for mounting PCBs, DIN-Rails and displays. Prices start from £20.
SMART-BOX wall mount enclosures are fully insulated to VDE 0100 and sealed to protection class IP66 for indoor and outdoor use. The moulded gasket is designed for easy replacement during long term maintenance.
The SMART-BOX range of waterproof enclosures is now available in six standard sizes with external dimensions of:

120 x 90 x 50mm
160 x 90 x 50mm
140 x 110 x 60mm
200 x 110 x 60mm
160 x 130 x 60mm
280 x 170 x 60mm
The cases are assembled with four rustproof stainless steel fixing screws which are positioned outside the sealed interior. An optional key lock can also be fitted for added security.
To aid installation and servicing, two plastic lid supports are also provided and the wall fixing dimensions are moulded on the underside of the cases.
OKW can supply SMART-BOX enclosures with additional holes for push buttons, connectors and displays plus silk-screen printed legends and logos. EMC shielding is also available.
OKW Sales and Marketing Director Robert Cox said: "The SMART-BOX range is proof that tough high performance enclosures can still be attractive, enhancing the value of the electronics equipment that they protect.
"This is one of the reasons that SMART-BOX has proven to be such a winner with electronics designers. The extensive demand made extending the range a foregone conclusion."
SMART-BOX IP66 enclosures feature:
Modern sealed electronic enclosures
Go anywhere: wall, bulkhead, machine
Ideal for electronics or electrical systems
Hinged flush-fitting trims hide case fixings
Screw shafts for wall mounting hidden under the hinged trims
Two plastic lid retaining straps included
Recess in lid for mounting a membrane keypad
Internal screw pillars for PCBs
Four self-tapping PCB mounting screws included
Material – ABS, Flame Retardant (UL 94 V-0)
Protection Class – IP66
Colour – light grey, RAL 7035
Accessories – key lock for lid, rubber feet, security kit, security pin.
SMART-Box is one of two ranges of IP66 electronic enclosures produced by OKW. The other is ROBUST-BOX, a wide range of tough multi-purpose sealed enclosures available in either ABS (UL 94 HB) or polycarbonate (UL 94 HB).
OKW also manufactures IP65 enclosures, including SMART-CASE (keyring/handheld), DATEC-POCKET-BOX, DATEC-MOBIL-BOXES, DATEC-CONTROL CASES and DATEC-KEYWORD CASE.
For more information about SMART-BOX IP66 enclosures, view OKW's website or contact Sales and Marketing Director Robert Cox, +44 (0)1489 583858.
Notes For Editors
OKW ENCLOSURES LTD
15 Brunel Way
Segensworth East
Fareham
PO15 5TX
Tel: +44 (0)1489 583858
Fax: +44 (0)1489 583836
###