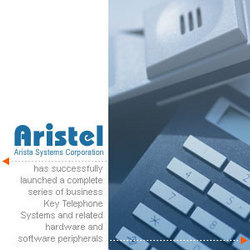 As the slogan says - Second best is not good enough
(PRWEB) May 16, 2008
Aristel's new developed IP PBX (VoIP), a phone system used in offices that benefits enterprises by saving a significant amount of calling costs, is going to present in the Computex Taipei 2008 this June 3-7. The world's leading telecommunication manufacturer from Taiwan will be located at Booth No. A410A Hall 1 and will offer a friendly and cost-effective business communication integration for small to medium size enterprises, SOHOs and hotels.
Established as its own brand "Aristel" since 1993, with one quarter of Arista employees consisting of R&D engineers, the Taiwan OEM/ODM telephone system supplier has been devoted to developing high quality and up-to-date technology in telephone control systems, including Arnex100, IP Phone and IBS-800 Intelligent Business System. Aristel's AV & DV phone series has set new standards in feature, function and flexibility, and expanded its distribution to over 40 countries worldwide. As a pioneer in the industry, Aristel now is proudly introducing the most powerful business communication solution -- IP PBX.
Advantages of IP PBX
A PBX stands for Private Branch Exchange, and a IP PBX or VoIP phone system is an advanced technology that allows a large number of local lines and extensions to share a certain number with external phone lines. It transmits voice over a IP-based network instead of a traditional proprietary phone system, which always comes alone with the hassle of complicating wiring problems and expensive hardware costs of added modules.
The most outstanding advantage of IP PBX is the tremendous cost saved on calling bills. By using VoIP gateway, IP PBX can be converted to PSTN telephones (regular telephone network), and shares the same line with computer networks to reduce the cost on long-distance calls and international calls. It conveys better voice quality, smoother call handing and high availability; the friendly designed configuration interface also makes installation and management much easier.
IP PBX offers all essential telephony features required for business, such as forwarding, call hold, ring group, conferencing, phone book and advanced features such as voicemail and auto-attendant. Compared to traditional a PBX phone, an IP PBX phone has no limitation of making calls and receiving calls via the IP network. In the event of an office move or seat relocation no patching is necessary, which is very flexible and convenient for small business and growing firms.
The above mentioned benefits are just part of the the commitment that Aristel promised to its clients. "As the slogan says - Second best is not good enough," said Allie Chang from Aristel Marketing Department. "We try our best to suit every client's need beyond their expectation." In addition to the main market in Europe and North America, Aristel expanded its business scale to Asia, Middle East, Australia and New Zealand, where they have been exclusively contracted in those regions due to its high reputation and quality of product and service.
You Have the Need, We Have the Service
One example of Aristel's great customer service has successfully brought its name to the Korean market. In addition to basic telephone system features, Arista's professional R&D team developed a customized system sold to a forwarding company in Korea which required certain functions specifically catering to the needs in the shipping industry. Aristel's quality products and great customer service has brought increasing profits from its authorized reseller in Korea on a large scale.
"We can't say that we occupied a big portion in the telephone system industry in Korea, but at least we have made our first step - despite huge brands like LG and Samsung," Chang continued. "We all know that Koreans are really attached to their brands."
Contact Information
Arista Systems Corporation
Tel: 886-2-85123000
Fax: 886-2-85122555
Address: 5 F, No.82-8, Guang-Fu Road, Sec. 1, San Chung City, Taipei 241, Taiwan
E-mail: aristel @ aristel.com.tw
2008 Taipei Computex
Date: June 3rd to 7th, 2008
Venue: The Taipei World Trade Center
Hall:One
Booth No: A410A
# # #