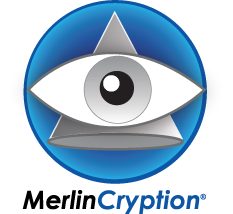 Security-minded law firms demonstrate their due diligence in aggressively protecting client privacy with MerlinCryption's encrypted-authentication platform.
Austin, Texas (PRWEB) September 27, 2012
MerlinCryption's security platform defends expansive, interconnected, and geographically dispersed multinational law firms, overcoming inherent challenges that jeopardize critical business operations, corporate data, and sensitive client information from both external and insider threats.
"Legal firms control sensitive documents that are continuously distributed among clients, associates, and colleagues, which make confidential file sharing complex, expensive, and unsafe," explains Paul (Prem) Sobel, Founding CTO MerlinCryption, "Attackers stalk law firms to collect intellectual property, financial data, and corporate M&A strategy from their client portfolios. From this data, criminals sell stolen IP to competitors, copy patented technology, mastermind sabotage attacks, and conduct illegal insider trade.
The FBI recently alerted the nation's top 200 law firms that their industry has become a target of cyber-crime," continues Sobel, "MerlinCryption supports the legal industry with a much needed security solution that underscores aggressive security risk management and impenetrable data loss prevention."
The security platform utilizes Anti-Statistical Block Encryption (ASBE), which overcomes two critical vulnerabilities in today's encryption security: short static keys and predictable key transfer protocals, which leave a gap in protection.
To eliminate these weaknesses, ASBE employs variable key length and requires no key transfer. Each key scales in size between 2008 bits and 2 GB and is reinforced with a scalable password up to 64 KB.
MerlinCryption's patent pending random data generator outputs keys and passwords that are 'generated-destroyed-recreated' on demand, making key/password transfer between end points unnecessary.
The ASBE algorithm is not subject to attack models and methods of Cryptanalysis. Every encrypted authenticating transmission is different, as the algorithm produces different cyphertext with varying length, even when repeating the same plaintext, key, and password input.
Client law firms further safeguard IP and clients from the added customization of the encryption-engine, which is unique to the individual firm's platform and is not interoperable with encryption engines in other firms or any client.
Sobel concludes, "Our clients protect not only their firm's portfolios, but also their reputation with this powerful encrypted authentication solution."
ABOUT MerlinCryption, Inc.
The Smart-World's Smart-Encryption™ software company in Austin TX, MerlinCryption develops encryption and authentication solutions that protect against counterfeiting, cloning, software compromise, physical machine compromise, and man-in-the-middle attack, designed specifically for the embedded and M2M (machine-to-machine) market.
The unprecedented security platform protects integrity of data-at-rest, data-in-motion, data-in-use, and data-in-change as it is created, viewed, edited, shared, stored, and moved across communications channels and through the Cloud. The encryption is NSA reviewed, BIS approved for export, and OFAC compliant. The cryptosystem enables compliance with FDA, HIPAA, and HITECH.
MerlinCryption offers full-scale encryption platforms for M2M, authentication, and enterprise, as well as eleven stand-alone software programs for Information Security professionals. MerlinCryption is changing the way the world protects data and secures connectivity. http://www.MerlinCryption.com.