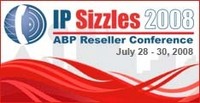 Doubling your IP Sales in Six Months
Dallas, TX (PRWEB) June 6, 2008
ABP Technology is hosting the 5th annual IP Sizzles in Dallas July 28-30, 2008 at the Sheraton Grand DFW Hotel and this one promises to be the best ever. In the ever-changing world of technology, IP Sizzles looks to maximize reseller's business opportunities by connecting industry leaders and resellers in VoIP, Wireless, IP Video, IP Surveillance, IP Infrastructure and IP service providers.
IP Surveillance is the newest and most exciting addition to the IP world. ABP Technology has always positioned itself as a leader in IP technology and in doing so is dedicating a portion of the 2008 IP Sizzles to IP Surveillance and Mobotix IP Surveillance cameras. IP Sizzle attendees will also be some of the first to see new products from AudioCodes, Mobotix and others. Speakers from different areas of the IP industry will speak on IP in general, their fields of expertise and with an overall theme on the importance of Resellers and maximizing the profit channel.
IP Sizzles 2008 integrates several key industry vendors' reseller meetings and product launches. Some of IP Sizzles 2008 key exhibitors and new sponsors are Aastra, Adaptec, AudioCodes, ClearOne, Digium, Linksys, Mobotix, pbxnsip, SMC Networks and snom. Other sponsors include Broadvox and XO.
Advance your business opportunities with the latest developments in IP Technology. We will feature the leading IP Telephony, IP Surveillance and IP Video solutions that are selling now. IP Sizzles has a general session conference track, a technology exhibit, plenty of social networking time and bonus training at the end. IP Sizzles and ABP are focused around reseller education and strategic planning to maximize profit streams. You will also add to your team's sales skills with a special session "Doubling your IP Sales in Six Months" focusing on -Solutions Selling and Closing Sales- by one of America's top sales trainers.
IP Sizzles 2008 is the "must attend" event of the year for Telecom, Data & Networking Resellers and Integrators growing their business with vendor independent, Open Standards based Solutions in IP Communications and IP Technology.
For additional information on ABP Technology please contact Jenny Ngo at (972) 831-1600 or visit http://www.abptech.com
###