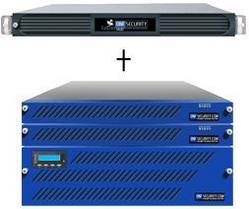 Booting video recording servers from IP-based networked storage yields substantial benefits for today's complex video center environments.
Hayward, CA (Vocus) April 29, 2010
DNF Security, Dynamic Network Factory's (DNF) mission critical IP Surveillance business unit, today introduced the Falcon-DL Series of diskless IP video recording and management servers. Featuring an energy-saving diskless design, Falcon-DL servers boot directly from DNF Security's Seahawk line of Internet Protocol (IP) storage area network (SAN) devices to provide superior data protection, optimum mean time to repair (MTTR) and significant cost savings.
"Booting video recording servers from IP-based networked storage yields substantial benefits for today's complex video center environments," says Mo Tahmasebi, president of DNF Security. "If, for example, a video server on the network fails, it can be replaced instantly -- without any loss of video data or video management software system configurations -- because the boot image is stored on the IP SAN and accessible with a few simple clicks. The process for adding a new server involves as little as copying and creating another boot image."
Offering a single storage pool for video sharing and video management application servers, the Falcon-DL servers enable administrators to conserve both workloads and infrastructure costs. Video management server costs are reduced without the need for costly built-in drives, while hard disk failures and lengthy backup procedures are also eliminated with the diskless design. In addition, power and cooling costs decrease through the use of space-efficient boot images stored on a Seahawk IP SAN.
"Being able to centrally manage all edge recorders and video storage from a single platform is also an advantage with the Falcon-DL Series," says Tahmasebi.
The Falcon-DL VME incorporates storage management and gateway functionality for complete surveillance management control. High performance features a 64-bit quad-core architecture, up to 6GB high-speed video cache, and dual 10/100/1000 copper gigabit Ethernet connectivity.
This fault-tolerant system comes in a convenient, space-saving 1U rackmount chassis with dual redundant 650-watt hot-swappable power supplies, and an advanced cooling system.
Ideal for large-scale enterprise or corporate security installation, the Falcon-DL Series supports the most popular video surveillance equipment and meets the needs of medium-to-large businesses and video surveillance hosting service providers.
Click here to see how the Falcon-DL Series works.
Now shipping, the Falcon-DL Series is priced starting at U.S $1,500.00. Contact DNF Security at 800.947.4742 for more information.
About DNF Security
DNF Security based in Hayward, California, is a leading manufacturer of dependable, mission-critical video surveillance solutions. Each DNF Security video solution is designed to handle the most complex video surveillance and physical security environments. The company offers a comprehensive range of products that provide enhanced storage protection, redundancy, high availability, and superior scalability in each cost-effective configuration. With a growing nationwide customer base, DNF Security simplifies the unique security video management needs of small to medium enterprises (SME), law enforcement agencies, gaming, municipalities, and government agencies. DNF Security is a subsidiary of Dynamic Network Factory, Inc. (DNF), a leading maker of high-performance network attached storage, storage area networks, RAID and iSCSI systems, since 1998. For more information, visit http://www.DNFsecurity.com or http://www.DNFcorp.com .
Dynamic Network Factory, DNF, and DNF Security are trademarks of Dynamic Network Factory, Inc.
###