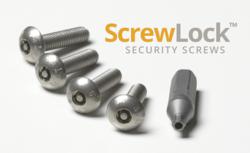 We're constantly working to improve the security, strength and versatility of our products while at the same time ensuring that our designs stay true to their origins
Waterloo, Ontario (PRWEB) June 18, 2013
Armodilo SecureLock security screws will be the new standard for all its iPad kiosks & tablet enclosures, providing a higher level of security for every tablet display product delivered. The SecureLock security screws function similar to the tumblers of a lock, the unique keyway shape allows only its matched key (driver) to fit. Matched keys are only available to Armodilo customers and cannot be purchased elsewhere, providing a greater level of security compared to traditional security screws.
"We're constantly working to improve the security, strength and versatility of our products while at the same time ensuring that our designs stay true to their origins," says Iles Guran, Founder & President. "The new SecureLock security screws allow for an even higher level of security for all our tablet enclosures while maintaining our award winning design aesthetics on all our products," adds Guran.
Four SecureLock screws will be standard on Armodilo tablet enclosures -- securing the steel faceplate cover to the high strength ABS kiosk housing, completely enclosing the tablet.
For clients that require additional security for larger deployments Armodilo can customize unique fastener and driver configurations.
Additional information on Armodilo products and accessories can be found at
http://www.armodilo.com
About Armodilo Display Solutions
Armodilo Display Solutions is a multiple award-winning tablet display manufacturer located in Ontario, Canada. With a variety of tablet display stands and accessories for trade show, event, retail and corporate markets, Armodilo sets itself apart by creating highly refined products for discerning brands around the world.
For more information about Armodilo, contact:
Iles Guran Founder & President at Armodilo Display Solutions
sales(at)armodilo(dot)com / 1-800-975-594