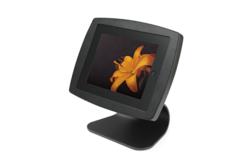 "The beauty of the Armodilo(rt) Desktop Curve is its simplicity"
Waterloo, Ontario (PRWEB) August 28, 2012
Further increasing the Armodilo(rt) [retail] line of tablet display stands, Armodilo has added two new small-footprint ipad / tablet kiosk designs: the Armodilo(rt) Desktop Curve and Armodilo(rt) Surface Mount. Both use the same patent-pending multi-tablet capable head unit but then combine them with sleek and elegant stands suited for desktops, countertops or other surface areas.
"The beauty of the Desktop Curve is its simplicity" says Iles Guran, Founder and CEO. " We took the classic lines from our freestanding tablet display stands and scaled them to fit our desktop model using a press formed aluminum piece to create the support – it creates a highly refined look", adds Iles. "The Armodilo(rt) Surface Mount picks up its design styling from the rest of our (rt) line, letting users create structurally beautiful surface mountable kiosk systems in a variety of settings including: trade shows, events & retail.
The Armodilo(rt) Desktop Curve and Surface Mount offer the same multi-tablet support as the rest of the Armodilo product line thanks to its patent-pending Tablet Fit Kits™ that currently support iPad1, 2, 3, Samsung Galaxy Tab 1, 2 and Motorola Xoom and custom tablet configurations. New tablet configurations are constantly being designed and supported.
About Armodilo Display Solutions
Armodilo Display Solutions is an award-winning tablet display manufacturer located in Ontario, Canada. With a variety of tablet display stands and accessories for trade show, event, retail and corporate markets, Armodilo sets itself apart by creating highly refined products for discerning brands around the world.
For more information about Armodilo, contact:
Iles Guran Founder & President at Armodilo Display Solutions
sales(at)armodilo(dot)com / 1-800-975-5946