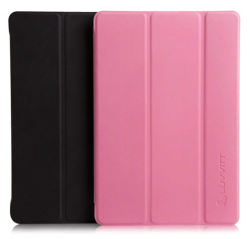 Full body iPad Mini protection doesn't get any more stylish than the LUVVITT® RESCUE Case
New York,NY (PRWEB) April 25, 2013
Making its debut earlier this week, the coolly contemporary LUVVITT® RESCUE iPad Mini Case delivers supremely durable, full-body protection and is available in a choice of two colors; black and pink. Manufactured from cutting-edge, ultra lightweight polycarbonate, its diminutive frame hugs every curve of the iPad Mini. While the RESCUE iPad Mini case fits like a glove to maintain the sleek aesthetics of the micro tablet, its slim line construction provides unbeatable protection against dust, dirt and scratches.
Light and thin, the LUVVITT® RESCUE does not disguise the minimalist beauty of the Mini but will preserve its appeal in the event of drops, knocks or bangs. The high performance front and back cover weighs just 3.3 oz., making it the perfect companion for the ultra portable device.
In addition to its protection detail, the front cover of the LUVVITTT® RESCUE easily transforms into a stand when the iPad Mini is in use. Its user friendly design can be used for increased comfort when reading, typing or viewing whether at home, school, in the office or on the move. The magnetic front cover also doubles as an auto screen awake /sleep service, helping to preserve battery life for improved performance and increased enjoyment over longer periods.
Carefully designed case for iPad Mini by the gadget techs at LUVVITT® features cutouts that are perfectly optimized to only expose the ports, buttons, microphone and camera holes. All of the edges are covered for optimum protection. Eli Altaras, managing director of Luvvitt.com said, "Full body iPad Mini protection doesn't get any more stylish than the RESCUE. Exclusively designed in house, it couples form and function, complimenting the beautiful iPad Mini appearance with uncompromising performance."
To find out more and to order, visit http://www.luvvitt.com
About LUVVITT®
LUVVITT® is the mobile accessories leader when it comes to cutting edge creations, delivering both practical, fashion-forward cases and covers for smartphones and tablets. Known as the Apple accessories experts, LUVVITT® takes pride in producing high quality, innovative designs that enhance and protect your valuable devices. From iPhones and iPads of all sizes, to Samsung products and other tablets, LUVVITT® is committed to creating the slimmest, lightest designs that combine fashion and function. Protect what you love with LUVVITT® top of the line accessories and "Wrap It Before You Tap It!"