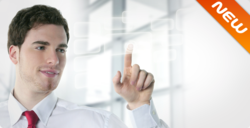 MagicalPad Introduces iPad Notes Exclusively for Business Users.
Boston, Massachusetts (PRWEB) October 25, 2011
MagicalPad™ brings a fresh approach to iPad notes, much more than a conventional note-taker, outliner or mind-mapping app. This notes app shows an amazing success with thousands of business users in less than a month including C level executives. Built exclusively for the business user, MagicalPad is truly a business tool helping users structure their thoughts, organize ideas, and visually present information to support decision making and prioritize actions.
Freeform Layout
Freeform layout is what makes MagicalPad powerful; users can create unlimited outlines and notes on the same page and move them around on the screen to create their own information dashboard. "It reminds you of Minority Report – the movie," said Lisa T. a MagicalPad user. Business users are using MagicalPad for brainstorming, meeting notes, project planning among other day to day productivity tasks.
Highly Interactive
MagicalPad is highly interactive, users can move things around, expand and collapse lists to focus on the right level of details, and they can zoom in on a specific area of their dashboard or zoom out to see the full picture. This way, users always have everything in front of their eyes and are able to focus on what's important and interact with their content like never before.
Connected to the Cloud
MagicalPad plays well within the cloud. With impressive sharing options including Dropbox, Evernote, Google Docs and email, users can easily export their notes in different formats including PDF, OPML, RTF and a native MagicalPad Xchange file format (MPX), which is great for sharing with other MagicalPad users.
About MagicalPad
MagicalPad is a Massachusetts based start-up provider of innovative mobile and web-based applications for visually organizing and managing information and ideas to drive structured thinking, spark creativity, and enhance business innovation and team effectiveness.
###