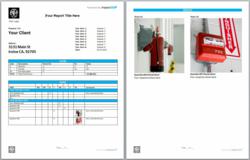 Professional, Custom, Formatted PDF Reports Direct From Your iPad
Orange County, CA (PRWEB) August 31, 2012
Use Inspect2GO (http://www.inspect2go.com/reports/) to collect data on the tablet or smartphone and export professionally formatted PDF reports directly from the mobile device. Import forms from the hosted back-end server, compare/edit, take pictures, markup images, sign documents and email the pdf reports or save them on the server. PDF reports and forms created on the mobile app are professionally formatted to your exact specifications, with your iPad/Android photos, logo, signature, data and precise layout requirements.
iPAD PDF Reports – Professional and Custom
■Run iPad to PDF, iPhone to PDF and Android to PDF reports while in the field
■Government Agency Reports – Send us your forms. We can custom design the report to meet the exact needs of your federal or state regulators, such as DOH, FDA, USDA, DOL, EPA, DOT, OSHA, BOP, ADA, etc.
■ Custom, professionally formatted PDF reports and business forms per your exact design specifications
■Your letterhead, company logo, colors, etc.
■Take photos, markup the images and include them in the PDF report
■PDF reports include notes, data entered, onscreen signatures, etc.
■Health, Safety, Inspection Audits
■Property, vehicle, food and construction site field reports
Database PDF Reports
■Custom reporting from back-end, server side
■Trending, graphs, data analysis and business intelligence
■ Hosting on our cloud server or your SQL server
■ Print/generate custom reports made to your specifications
Industries
■Insurance
■Government regulatory audits
■Property inspection
■Vehicle inspection
■Health inspection (EHS, DOH, DOT, USDA…)
■Field surveys, audits, inspections
ABOUT INSPECT2GO
Inspect2GO is a mobile application, cloud database and software development company based in Southern California. The firm's mobile technology includes inspection checklists and apps with signature, photo, markup, custom reporting, pdf, rating, statistics, charting, graphing and database functions. The software is compatible with Apple iOS (iPhone, iPad), Windows Mobile and Android tablets/phones. Inspection results are sent to Inspect2GO's cloud database for storage. Reports, graphs, trends and data feeds can be retrieved from the cloud server via a browser-based web portal. We are also custom developers and programmers of mobile applications, SQL database applications and custom, web-based software.