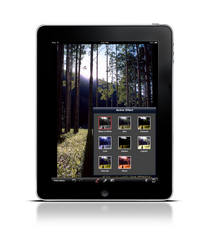 Masque is all about making powerful, pro-grade photo editing much more approachable for all users
Seattle, WA (Vocus) April 2, 2010
Ubermind today announces the launch of Masque, the first-of-its-kind, easy to use Multi-Touch photo editing app, available for download from the iTunes App Store. With Masque, users control advanced photo editing effects through simple, easy to understand Multi-Touch gestures.
A veteran of the App Store's Photography category, Ubermind developed Masque to push the limits of photo editing on a mobile device while simultaneously leveraging the intuitive user experience that the iPad offers. "Masque is all about making powerful, pro-grade photo editing much more approachable for all users," said Bryan Hansen, a senior iPad engineer at Ubermind. "We've created an app that is inherently useful and enjoyable for both professionals and consumers."
Masque's features include:

Pro-grade Filters
Never-before Seen Multi-Touch Gradient Controls
Customizable Brush and Eraser Tool
Sharing (upload to Facebook, send by email, or save to iPad's Photo Library)
Optimized for portrait or landscape orientation
Masque is one of several apps developed by Ubermind for the highly-anticipated iPad. "The iPad is well-positioned to be a major opportunity for today's forward-thinking brands," said Ubermind CEO Shehryar Khan. "The success of past mobile applications show that investments in mobile channels are increasingly important to companies." Indeed, Khan will be presenting on the topic of mobile development to the digital marketing and advertising world this April at the Ad Age Digital Conference in New York City.
Masque will be offered at a special introductory price of $5.99 on the iTunes App Store. To learn more about Masque, go to masqueapp.com.
About Ubermind
Ubermind, Inc. is a full-service software engineering firm and leading app developer for the iPad, iPhone, and Android platforms. With over a decade of experience working on large mission-critical enterprise systems, Ubermind is uniquely equipped to handle all stages of large mobile app and web development projects completely in-house. For additional information regarding Ubermind, please visit ubermind.com.
###