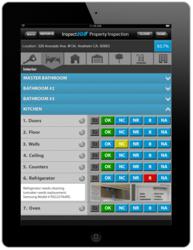 "Complete Property Inspections Quickly and Save Notes, Images and Scores to the Cloud"
Los Angeles, CA (PRWEB) February 07, 2012
Inspect2GO's property inspection applications (http://www.inspect2go.com/inspection/property/) are designed for property management companies, realtors, banks, developers and inspectors. Each application is private, accessible via Inspect2GO's B2B account. Data, notes and photos are recorded with the iPad (iPhone or Android). Recall prior inspections and compare to the property's current state. Score each property and graph performance over time. Send professionally formatted reports from the iPad (iPhone or Android) with photos, notes and scores, personalized with a company logo, address, etc. Each application can be customized by Inspect2GO to meet the unique needs of the client. Inspect2GO apps are used by Fortune 500 companies, government agencies and individuals.
iPad/iPhone App Features

Reports - Professionally formatted property inspection reports sent directly from iPad/Android tablet
Photos - Take photos of property with the iPad and include in reports
Draw - Mark on line drawings of homes, buildings and Google satellite images
Rating - Rate each item – Pass, Fail, Good, Poor, Not Applicable, Needs Replacement, Needs Cleaning…
Score - Custom scoring of all kinds – 85% pass, "B+"…
Recall – Pull and compare past reports from the cloud while on site
Cloud/Server/Database Software Features

Run custom, formatted reports with your logo and content
View past inspection results and scores in table format
Plot any graph such as:
- Average property score in Los Angeles, January through June, 2011
- Florida vs Texas average property score and trend
- Number of inspections per day per inspector
- Custom graphs, data handling and reports per request
Other Custom, B2B Building Related Applications

MIMO – Move-in, Move-out checklists
Commercial property, rental and residential property inspection apps
Roofing apps (inspect, report, save data)
Building/construction site quality and safety audits
School facility audits (Williams Act checklists, school kitchen inspection, safety audit)
Insurance audit applications
Custom applications, SQL database development, cloud server and property management software integration
About Inspect2Go
Inspect2Go is a mobile application, cloud database and software development company based in Southern California. The firm's mobile technology includes inspection checklists and apps with signature, photo, markup, custom reporting, pdf, scoring and database functions. The checklist apps are compatible with Apple iOS (iPhone, iPad) and Android. Inspection results are sent to Inspect2GO's cloud database for storage. Reports, graphs, trends and data feeds can be retrieved from the cloud.
See http://www.inspect2go.com/inspection/property/
###