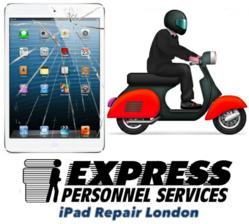 iPad Repair London becomes the first iPad Mini Screen Repair Service in the Industry to Offer One Year Warranty with all Screen Repairs Using Original iPad Screens
London (PRWEB UK) 29 April 2013
iPad Repair London has introduced the longest Warranty for iPad Mini Screen Repair in London and the rest of the UK. iPad Repair London is leading the industry in iPad Screen Repairs and Warranty. The average iPad Screen Repair Warranty is 30 days by most iPad Repair Companies. The company is delighted to lead the way, and provide it's customers with the Longest Warranty in the industry for iPad Repairs in London.
Ryan Newman, Customer Services Manager, said "We are delighted to offer this ground breaking warranty to our customers. We are not aware of any other repair company that comes close to matching this length of warranty and we are excited to be leading the way in the industry. We constantly hear from customers who have been to other iPad Repair Services complaining that their iPad Screen started playing up after the Warranty had expired. The average Warranty is 30 Days or 1 Month with most iPad Repair Shops, so it does not give the customer much time. We put ourselves in the customers shoes, and thought what would we like if we were the customer. We thought peace of mind to know that the best quality part or Original iPad Screen had been used, and a Long Warranty, so that we would not have to worry about things going wrong. We have a high level of confidence in the Original Parts that we use and the skills of our technicians, hence why we we are able to offer such a Long Warranty in an industry where everyone else offers 1 Month Warranty. If a repair shop has confidence in it's product and service, it should not be afraid to offer One Year Long Warranty. This is why we include One Year Warranty on all iPad Mini Screen Repairs using the Original iPad Screen."
He continued "The benefits of our services are self-explanatory. We provide a professional service that is fully insured, with a highly experienced team of technicians and we are members of all the major bodies representing the Repair Industry. Our warranty ensures clients have "peace of mind" when choosing us for their iPad Repairs "
iPad Repair London, offers Same Day and Next Morning Guaranteed Express Repair Services as well as the standard 1-3 day turnaround service for screen repairs. The Average turnaround with most repair shops is 7-10 Days. So even the Standard Service is Super-Fast. There is a free collection and free delivery service available within the London area and a drop off facility in their Central London Work Shop.
ABOUT US
Company: iPad Repair London
Telephone 0207 100 1212
Website: http://www.ipadrepairlondon.org.uk
Email: info(at)ipadrepairlondon(dot)org(dot)uk
Address: 137 Goswell Road, London EC1V 7ET
iPad Repair London is the Number One iPad Repair Service in London. We specialise in iPads, and repair almost anything and everything when it comes to iPads. This includes, iPad Screen Repair, LCD Repair, Faulty Battery Replacement, WiFi Repair, Power Button Repair, Volume Button Repair, Audio Jack Repair, Charging Port Repair, Home Button Repair or Replacement, Loud Speaker Repair or Replacement, Microphone Repair or Replacement, Camera Repair or Replacement, Water Damage etc