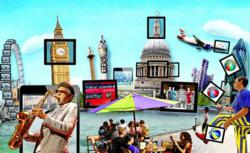 iPad Repair London announces the launch of Weekend Collection Service for iPad Screen Repairs
London, UK (PRWEB UK) 31 May 2013
iPad Repair London today announces the launch of the new iPad Screen Repair Service that has Weekend Collection Service for people too busy to have their iPad collected for repair during the working week. Fellipe Arnold, Lead Technician, explains that "it's a service cleared targeted for young busy professionals and young busy families who lead extremely busy lives in London, with barely a moment to spare in the working week. It's ideal for them. We have heard time and time again, requests from young working mothers to city professionals who don't have a second to spare in the working week to sort out their iPad for repair. They always ask the same question - Why don't you do weekend collection? And this is our answer to them. Now we do weekend iPad Collections for Repair."
It seems like iPads and iPhones have taken over the world. It was only yesterday the first iPhone came out. Now iPads are the staple diet of professionals, mothers, toddlers, and grandfathers, basically everyone from young to the old. iPads are a secondary TV for some, they are a work machine for others, they are in children's bedrooms as entertainment devices, and now they are also an educational tool in many schools. The iPad has replaced the laptop for millions of people.
Fellipe Arnold, Lead Technician at iPad Repair London goes on to explain that this phenomenon with iPad and it's ever growing popularity in all spheres of modern life means that it will continue to grow, and the way he sees it, it will become "an everyday life item" like the way mobile phones are now an everyday life item. Fellipe Arnold continues to say "We are seeing a huge demand for our service, with the ever growing popularity of iPads. We get a constant stream of iPad Screen Repair jobs on a daily basis. The vast majority are for collections in London. Most of our customers know we can collect from their home or their work, so we can be flexible around their schedule. And for a lot of people, our City of London location is ideal, they can pop in to drop their iPads in for repair, either on their way to work, or at lunch time, or after work. We have done our best to make our service accessible and easy to use for all. If iPads are going to become part of everyday life, then the way we see it, we must also offer a service, that is flexible to the needs of people in their everyday lives."
ABOUT US
Company: iPad Repair London
Telephone 020 3544 9930
Website: http://www.ipadrepairlondon.net
Email: info(at)ipadrepairlondon(dot)net
Address: 135 Goswell Road, London EC1V 7ET
iPad Repair London is an old fashioned service company that provides professional iPad Screen Repair and iPad LCD Repair Service for customers based in London. We are based in the City near Barbican Underground Station.