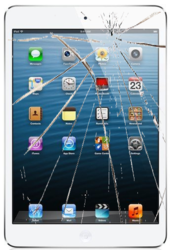 iPad Screen Repair, launches Express Same Day Screen Repair for the Ultra Portable iPad Mini
London, Glasgow, Leeds, Birmingham, Sheffield (PRWEB UK) 31 May 2013
iPad Screen Repair, the online iPad Repair Service, has been busier than usual, and gives many small businesses hope, in that it is a business that is growing in a recession. The tech and gadget repair industry has seen growth at a time, when most businesses and services have seen a sharp decline in business. Most commentators and experts put it down to the fact that people are looking for ways to save money in a recession, so they are more likely to get something repaired, as opposed to buying a new one. When times are good, people with good disposable incomes are more likely to buy something new when it breaks rather than repairing it. This is often the case with most consumer electronic goods. However, with iPads, they are high value items regardless of the economic climate. More importantly they hold their value even when they are a year or two old.
Ryan Newman, Customer Services Manager at iPad Screen Repair, points out "Apple has reported that iPads have been selling like hot cakes. The iPad Mini has been a huge success for Apple. There are now millions of iPad owners, and this has in turn has fuelled a market for iPad repair. We are catering to the demands of this market. Because we are not a big corporate company, we are able to be agile and flexible, and move fast when the market dictates. So, when we get asked for Same Day iPad Mini Screen Repair, over and over again, we know there is clearly a demand for it, as people have been asking. This has spurred us on to introduce the Express iPad Mini Screen Repair Service."
Apple, in a good way, have become the new Microsoft. They have fuelled the growth of many service industries, like App Development, Repair, and Accessories, and this has in turn created indirect sales of Apple products. The business that develop Apple App's to the business that make accessories for Apple products to the businesses which repair Apple products, promote Apple's product indirectly, all the time. This is very similar to what Microsoft has had for a very long time. They had a huge channel model, and thousands of IT consultants who were trained on their products, who were making a living off their products, promoting their products constantly. This is probably one of the best forms marketing a company can have.
iPad Screen Repair, as a service company, was created by people who have a love for the iPad. This shows in their approach to their service. They are what we would call a "traditional service business". They don't try and sell you Apple products or accessories. They repair iPads and that's it. They are not like other online business, actually, they are not just an online business. iPad Screen Repair has premises in the City of London, from where they run their National Repair Service Operations. So, customers can come and visit them, but at the same time, they are able to pick up iPads from the big cities, often within 90 minutes of a call, to 24 hours, from almost anywhere in the UK. To find out more about iPad Screen Repair, please visit http://www.ipadscreenrepair.org.uk or call 0800 033 7508
ABOUT US
Company: iPad Screen Repair
Telephone 0207 100 1212
Website: http://www.ipadscreenrepair.org.uk
Email: info(at)ipadscreenrepair(dot)org(dot)uk
Address: 137-149 Goswell Road, London EC1V 7ET, UK
iPad Screen Repair provides a national iPad repair service. We specialise in iPad Screen Repair, and all of our repairs come with warranty that gives you peace of mind.