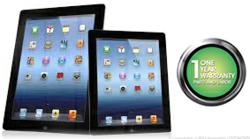 iPad Screen Repair Services launches a No Quibble 1 Year Warranty on all repair done using the Original iPad Screen
London, Birmingham, Leeds, Glasgow, Cardiff (PRWEB UK) 29 April 2013
iPad Screen Repair company ipadrepairservices.co.uk today announced that they now offer a No Quibble One Year Hardware Warranty on all iPad Screen Repairs using the Original iPad Screen - as standard. The New Warranty has been launched to mirror the commitment ipadrepairservices.co.uk holds on the durability and life cycle of its products and service.
Ryan Newman, Customer Services Manager at iPad Repair Services, said: "I am very happy to announce that we now offer a No Quibble One Year Warranty. Our customers can trust in our technology and share confidence in our products with One Years worth of Warranty security."
He continued, "That research with customers who enquired about iPad Screen Repair found that peace of mind and confidence in the durability and life cycle of a screen is a critical factor to many. Priding ourselves on our high level of workmanship and value for money prices, we work closely with our clients and we ensure they receive the service that they deserve by backing it by 1 Year Warranty. Action speaks louder than words, so we know we offer the best iPad Screen Repair Service in the UK, this now backed by our Warranty."
The iPad Screen Repair service offer includes free UK wide collection and delivery service, with labour and parts included with the published prices for repairs. For details or to book a repair please visit http://www.ipadrepairservices.co.uk
ABOUT US
Company: iPad Repair Services
Freephone 0800 033 7508
Telephone 020 3397 4232
Website: http://www.ipadrepairservices.co.uk
Email: info(at)ipadrepairservices(dot)co(dot)uk
Address: 137-149 Goswell Road, London EC1V 7ET, UK
iPad Repair Services (also known as iPad Screen Repair) is the UK's fastest growing iPad Screen Repair Service. We pride ourselves in providing high quality value for money service. No other service in the UK is able match us on our service - our confidence in our work shows through the fact that we the ONLY iPad Screen Repair service in the UK that offers 1 Year Warranty. The warranty we offer speaks volumes about the quality of our repair.