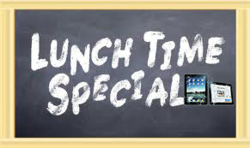 iPad Screen Repair Launches While You Wait Lunch Time Special Service
London, Glasgow, Cardiff, Southampton, Leeds, (PRWEB UK) 28 June 2013
iPad Screen Repair, the London based iPad Repair Service is launching a new service called The Lunch Time Special. It's the brainchild of Hellen Grasso, Branch Manager at the London City Office. Hellen came up with the idea simply because of the volume of iPad Screen Repairs the business was doing during the lunch hours. Hellen points out that "iPad Screen Repair is not a big business. We are a small business, and our customers like that about us. The vast majority of repairs that we do is for iPad Screens, and our busiest hours are often the lunch hours. Although we are a National iPad Screen Repair Service, we are also a traditional bricks and mortar business, meaning we have a physical presence in the heart of London, and customers can come and visit us to bring their iPad for repair. Many customers choose to do this, just to drop it off, because taking it to the shop probably makes some people feel safe. However, there are a number of people who bring their iPads in during the lunch hour, hoping to have it fixed while they wait. This typically means, the customer going out to grab something to eat while the iPad gets repaired."
iPad Screen Repair shows the demand for this service has been constantly increasing so Hellen decided to call it the Lunch Time Special and offer it as a service option with it's own pricing. When Hellen talks, you can tell she is passionate about iPad Screen Repair. Hellen goes on to say "We are not one of the cheapest iPad Repair Service by far, however, if you see our reviews, and the fact that our business has been growing during hard economic times, it will tell you that we are doing something right. Our formula is simple, we offer excellent customer service, the longest warranty on the market beating all competition hands down, and lastly we keep it simple. Good old fashioned customer service and our iPad Screen Repair Service Reviews are a testament to that."
The Lunch Time Special at iPad Screen Repair officially goes live from 1 July 2013. To find out more, you can visit iPad Screen Repair at http://www.ipadrepairservices.co.uk or call 0800 033 7508.
ABOUT US
Company: iPad Screen Repair
Freephone 0800 033 7508
Telephone 020 3397 4232
Website: http://www.ipadrepairservices.co.uk
Email: info(at)ipadrepairservices(dot)co(dot)uk
Address: 137-149 Goswell Road, London EC1V 7ET, UK
iPad Screen Repair (also known as iPad Repair Service) is the UK's fastest growing iPad Screen Repair Service. We pride ourselves in providing high quality value for money service. No other service in the UK is able match us on our service - our confidence in our work shows through the fact that we the ONLY iPad Screen Repair service in the UK that offers 1 Year Warranty. The warranty we offer speaks volumes about the quality of our repair.