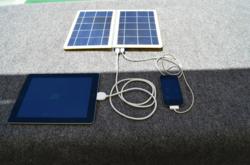 This is the most powerful USB solar charging device available in its class
San Jose, CA (PRWEB) June 13, 2012
Suntactics, Inc, a global provider of innovative solar charging products, announced the release of their newest solar charger product, the sCharger-12, designed to meet consumer's growing demand for more solar power for their iPads, iPhones and other personal devices. The device is designed to charge (2) USB based device simultaneously like an iPhone and iPad.
Dean Sala, Suntactics COO, said, "We designed the sCharger-12 with a user requirement to both use and charge their devices simultaneously. The sCharger-12 will charge devices at wall-charging rates while surfing or using a phone. Our sChargers also incorporate a unique Auto-Retry feature to assure our users stay connected and without disruptions to charging. Users will find our (2) USB ports convenient to charge and use their devices simultaneously. The sCharger-12 rates at over 12 watts and maxes out as high as 14 watts. This is plenty of power for all your high powered USB devices even in non-ideal weather conditions."
Suntactic's sCharger-12 is compact, lightweight, foldable and easy to use. Connect the sCharger-12 to your device and go.

No waiting for battery pack to recharge, charges & runs continuously
No additional costs for battery pack replacements
No attachments required, optimized for USB charging
No charging resets required, unique circuitry optimizes charging
No hassles: just plug in your device charging cable
No operational issues: durable, weather resistant and dependable
"Competitors lack sufficient power to direct charge personal devices thus provide a battery pack that must be charged first." said Dean Sala CEO and founder. "Without an operational battery pack, they are just another low power solar charger with limited capability. Their battery packs take 8 -15 hours of non-operational device usage time to charge in full sun, then the USB battery is used to charge a device. Avoid these delays, costs of batteries and the burden of disposal when the batteries wear out? Go green with SunTactics."
Dean also said, "Suntactics views external batteries as an optional accessory that some user's may desire– we charge those, too. But we believe users have their own preferences for specific batteries from battery manufactures and we want them to have the choice".
About Suntactics
Suntactics focuses on portable solar power and off grid solar energy products. The sCharger-12 complements their existing sCharger-5 and adds to their growing line of products and accessories. This compact high power and durable solar power supply is being used by customers for a wide range of portable devices. Its simplicity in design makes it hassle-free and easy to use, just plug in your device and it starts charging instantly. sChargers are manufactured locally at Fastrak, a veteran owned contract manufacturer. Suntactics is located in San Jose, CA.