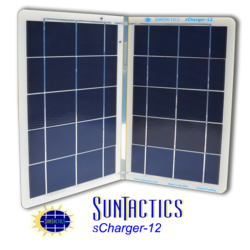 The sCharger-12 can provide up to 14 watts (2.7Amps,5Volts) of power right from sun.
(PRWEB) August 01, 2012
Suntactics, Inc., a global provider of innovative solar charging products, has experienced overwhelming demand for their new duel port sCharger-12 solar charger. They have expanded production to meet customer demand and shipment commitments have now been reduce from 4 weeks to less than a week. Customers want the sCharger-12 solar charger now since there are no other solar chargers in the market today that can solar charge (2) USB based device simultaneously like an iPhone and iPad while both devices are simultaneously in use. The sCharger-12 will charge multiple devices at wall-charging rates even in non-ideal weather conditions while surfing and using a phone.
Dean Sala, Suntactics COO, said, "We have had an overwhelming response with much excitement regarding the sCharger-12. The sCharger-12 is exactly what customers are looking for to keep their power hungry devices operational while off grid. Our customers realize that it takes a powerful solar panel to charge the latest tablets and other high powered USB devices. We have answered their call. The sCharger-12 can provide up to 14 watts (2.7Amps,5Volts) of power right from sun. This is a substantial amount of power for such a compact size. With this kind of power, a tablet device can run and charge. And at the same time you can also solar charge a phone or even another tablet!"
Customers demand and the Suntactics sCharger-12 solar charger provides:

Instant solar power charging and usage
Ease of use without any hassles
Fast charging even when cloudy
Compact lightweight size
Rugged and durable long lasting performance
Value in terms of price-performance
Competitors are not able to meet all of these customer needs. They use a battery pack that takes 8 -15 hours of non-operational device usage time before the battery pack is able to charge the device's internal battery. They are not easy to use nor are they durable. Why compromise; get the best and most powerful solar charger in market today, the Suntactics sCharger-12 solar charger.
About Suntactics
Suntactics focuses on portable solar power and off grid solar energy products. The sCharger-12 solar charger complements their existing sCharger-5 solar charger and adds to their growing line of products.