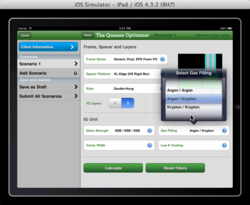 Introduction of the iPad app extends the ability for Quanex sales professionals to maintain customer contact quickly
Baton Rouge, LA (PRWEB) November 30, 2011
Enhanced lead generation and company capabilities are delivered in an elegant iPad app created by Envoc, a software and mobile app development company and Savage, a leading brand development and marketing agency.
Developed for Quanex Building Products, the Quanex "Optimizer" iPad app provides immediate access for sales representatives and their customers to quickly and easily prepare specifications based on detailed materials scenarios and gather information using a simple, touch-screen interface.
"Introduction of the iPad app extends the ability for Quanex to maintain a high degree of customer service, gain sales intelligence and reinforce its brand position as a highly responsive and professional supplier," said Robin Tooms, principal at Savage.
The iPad-based app allows Quanex sales staff to provide custom product details from any location, including trade show environments. It also integrates and co-exists with a similar web-based tool, providing multiple entry points (tablet or desktop) in which app users can gain access to the same functionality and information.
"The Quanex Optimizer's proprietary technological complexities are complemented by the elegant, yet intuitive user interface designed by Savage," said Brandon Cornett, mobile developer at Envoc. "While the programming is very technical, it's very easy to operate and completely branded to reflect Quanex."
About Quanex
Quanex Building Products Corporation is an industry-leading manufacturer of value-added, engineered products and components, serving the energy-efficient building products markets. It is an ROIC-driven company that grows shareholder returns through a combination of organic growth via new products, programs and strategic acquisitions. For more information, visit http://www.quanex.com.
About Envoc
Envoc is a software company based in Baton Rouge, Louisiana, under the wing of the Southeast Louisiana Business Center. Envoc's AppMelt mobile development suite provides for the rapid creation of powerful, feature mobile and tablet applications that integrate with existing web and business environments. These apps can be managed and deployed solely within a company's intranet or published on both the Apple App Store and Android Marketplace for wider distribution. For more information contact Calvin Fabre at (225) 910-8239 ext 101 or visit http://envoc.com.
About Savage
Savage is a branding agency that helps companies develop and sustain leadership positions within their industries. The firm's expertise encompasses branding, marketing, online and social media, sustainability reporting, investor and employee communications, and more. For more information, visit http://www.savagebrands.com.
###