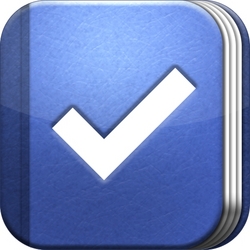 Holding Todo for iPad in your hand just as you would a daily planner is an incredible experience that gives you motivation to be productive.
Orem, UT (PRWEB) May 12, 2010
Appigo, Inc., a worldwide leader of high quality iPhone and iPad apps, today launched Todo™ for iPad, a sophisticated to-do list app for for the iPad.
Todo for iPad presents to-do lists and tasks on themed paper inserts. The paper inserts are shown inside of a ringed binder. The app includes multiple paper and binder styles which users can choose depending on their preferences. Smooth transition animations give indications to users that the app is responsive in any direction the iPad is held.
Appigo has spent considerable amounts of time ensuring that using Todo for iPad feels completely natural and familiar to anyone that has used a paper-based planner in the past. The company feels that the emotional tie between a real-life object and the iPad's size is an important aspect of the overall app design.
"We're extremely pleased with how well the iPad brings to life Todo's new planner interface," said Calvin Gaisford, President and Co-founder, Appigo, Inc. "Holding Todo for iPad in your hand just as you would a daily planner is an incredible experience that gives you motivation to be productive."
Todo for iPad is based on the company's iPhone version of Todo which was released in July of 2008 at the Grand Opening of the App Store. With the iPad version sharing a good portion of the original software, the iPad version is very stable, well thought out, and based on two years of customer feedback.
An important feature of the Todo is task synchronization with multiple third party services including iCal on the Mac, Outlook on a PC, and the popular online task service Toodledo. Todo for the iPad includes this synchronization technology making it the most connected to-do list app for the iPad. The new software allows users to keep their to-do lists synchronized between their desktop, their iPhone, and now their iPad.
Todo for iPad also supports projects and checklists. Projects and checklists allow users to create subtasks and group related items together. When users tap on a project or checklist, the page of the current to-do list turns to reveal the project's subtasks.
Other features of the app include multiple to-do lists, reminder alerts via Apple's Push Notification Service, and full task searching. A full listing of all the features can be found on Todo's product website.
Appigo, founded in early 2008, has an established record for creating successful iPhone apps. At the inception of the iTunes App Store in July 2008, the company released Appigo Todo™, a fully featured to-do list application which they have now expanded to provide task synchronization with both iCal for Mac and Outlook for PC.
Pricing and Availability:
Todo for iPad can be purchased directly on the iTunes App Store and is being offered at an introductory price of $4.99 USD. Users who purchase the app at its introductory price will receiving future updates of the app free.
Requirements:
Todo for iPad requires a Wi-Fi or 3G iPad running OS 3.2 or newer.
Media Kit:
A media kit is available on the company website and includes hi-res app icons and screenshots.
About Appigo:
Appigo, Inc., develops high quality applications for iPhone computing platform including Todo (powerful task management), Corkulous (ideas at your fingertips), Notebook (notes available everywhere), and AccuFuel (fuel efficiency tracker). With many years of experience in mobile computing, networking and user interface design, the Appigo team focuses on adding polish to its applications for a more enjoyable end-user experience. The products created by Appigo have quickly gained favorable reviews worldwide. For additional information about Appigo and their products, including full demonstration videos, please visit their website. Appigo, Corkulous, Appigo Todo, the respective app icons are trademarks of Appigo, Inc. Copyright 2008-2010, Appigo, Inc. All rights reserved. Apple, the Apple logo, iPod, iPod touch, and iTunes are trademarks of Apple Inc., registered in the U.S. and other countries. iPad and iPhone are trademarks of Apple Inc. App Store is a service mark of Apple Inc. Other company and product names may be trademarks of their respective owners.
###