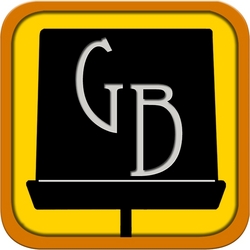 GigBook is worthy of buying and recommending to my colleagues and students. Excellent job!
Portland, OR (PRWEB) October 19, 2010
Deep Dish Designs today announced GigBook, a sheet music viewer and organizer for iPad.
GigBook is an elegant and intuitive organizer for all your scores, songbooks, charts, and lyrics sheets. It is a simple to use, but highly powerful app designed to help any musician, whether professional, academic, or novice.
"GigBook is worthy of buying and recommending to my colleagues and students. Excellent job!" Peter Erskine — drummer, bandleader and Professor of Music
(Thornton School of Music, USC)
GigBook was conceived and designed with the performing musician and music educator in mind. With powerful and versatile organizing features you can sort your music to fit your individual needs.
GigBook allows you to be truly mobile. You can house all your songbooks in one place with Collections. Pull out individual scores from those songbooks with Super Bookmarks. Compile scores into infinite personalized Binders. Create dynamic Set Lists. GigBook is unlike any other music viewer available for the iPad.
As one of our beta testers said, "This is going to change everything for me."
GigBook's main features include:
~ Support for any sized PDF.
~ Beautiful and elegant UI.
~ Scores appear in full screen view.
~ Unlimited organization for all your scores with custom binders.
~ Powerful and flexible set lists; not only the ability to add scores and arrange them, but also the capacity to write charts, notes, stage directions and view them alongside your scores.
~ Performance Mode allows you to seamlessly view your set list, notes, and scores in an eloquent and easy to read format from your music stand.
~ Add score details to each score including: title, composer, genre, time signature, key signature, and tempo.
~ Add and view notes for each score.
~ Collections allows you to house all of your books, volumes, songbooks, handouts, or any large multi-score pdf in one place for easy access.
~ Super Bookmarks allows you to pull out a single score from a multi-score collection to be used in your binders or set lists.
GigBook is ready to be used seamlessly at rehearsals, in the classroom, during private lessons and on stage. Load all your PDF scores into GigBook and head out to your next gig.
Pricing and Availability:
GigBook can be purchased directly on the iTunes App Store starting October 22, 2010 for a special "early adopter's" price of $3.99 USD (1/2 off the regular price $7.99 USD). A 50% academic discount is available for educational institutions through the App Store Volume Purchase Program.
Requirements:
GigBook is built for the iPad and requires iOS 3.2 or newer.
Media Kit:
A media kit is available on our website and includes hi-res app icon and screen shots.
About Deep Dish Designs:
Deep Dish Designs is based in Portland, Oregon. We are musicians, artists, and educators who are constantly looking for a better way forward through developing iOS products. We strive to make our software beautiful, simple, useful and enjoyable to the touch.
Learn more about Deep Dish Designs at http://www.deepdishdesigns.com
If you would like more information about GigBook or Deep Dish Designs, or would like to schedule an interview, please contact us at: info(at)deepdishdesigns(dot)com.
###