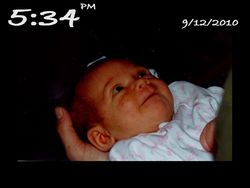 Miami, FL (PRWEB) November 17, 2010
Two Dogs Group Inc. announced today the availability in the iTunes store of myPhotoAlarm, an app with an entirely new approach to timekeeping and alarm clock functions for iPad.
myPhotoAlarm is the first iPad app to combine stunning photo display capabilities with a completely customizable set of time, date, and alarm "layers."
Along with high-quality nature and alarm sounds, the app also let's the user wake (or sleep) to their own custom music play lists or even a personalized recording.
Time, date, and alarm appearances can be modified in size, style, color, background color, background transparency, and more.   Choose from digital or analog displays and save favorite layouts for easy future loading. Use the sleep function to relax to music or nature sounds.  All timekeeping and alarms function ON TOP of favorite photos and slideshows, to create the most outstanding, functional, and personalized alarm clock available today.
According to Two Dogs founder Gregg Radell, "The iPad is always nearby a bedside, desk, or countertop and thus it seemed the perfect platform for a media rich alarm clock with all the benefits of multitouch and and none of the constraints of traditional timekeeping hardware." Two dogs group is proud to take the lead in iPad timekeeping with the introduction of myPhotoAlarm.
myPhotoAlarm is now available in the iTunes store.
ipad app alarm clock slide show photos
Contact:
Gregg Radell
ipad app alarm clock slide show photos
gregg(at)twodogsgroup(dot)com
8862 SW 129th Terrace
Miami, FL
Ph: 305.256.5905
###