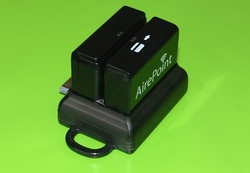 "One word:perfect! I'm a full time artist and need to take cards on site or in my studio. My customers are amazed and love the emailed receipts. Thanks Global Tek for making life easy for me and leading the way in iPhone OS card readers." Michael Baxley
Parker, CO (PRWEB) July 26, 2010
Looking for an excuse to buy an iPad? If you take credit cards for payment on the road, the AirePoint credit card reader attachment for iPads is the perfect mobile processing solution. Developed by Global Tek Labs, this small accessory is the first credit card reader attachment approved by Apple for use with the very cool iPad. Along with the ezPOS app, available on the App Store, the AirePoint lets you finish secure, authorized transactions (including signature capture and green receipts) in less than one minute.
Wireless credit card terminals are bulky, expensive and limited in function. The AirePoint credit card reader is small, affordable and works with any iPhone OS device: iPhone 3G, iPhone 3GS, iPod touch, iPhone 4, and now iPad. The huge selection of apps available for these devices allows the business owner to customize their iPad to include any function necessary to work efficiently in the field. For the same price as a traditional wireless terminal, a mobile entrepreneur can use the AirePoint and an iPad to streamline operations.
Mobile card processing is an essential tool for any business accepting payments remotely. Sculptors at an art show can sell a large piece, and pay the lower "card present" transaction fee. Authors at a speaking gig can sell copies of their book at the end of the talk. Independent stylists at salons can finally accept credit cards for their services. Contractors and designers can capture the deposit at the first site visit. Mobile vets and groomers can collect payments and be sure that the transaction was approved instantly. Even tow-truck drivers can accept payments from the frazzled owners of stalled vehicles.
Anywhere there is a cell signal or wi-fi access (depending on the type of iPad), credit card payments can be accepted quickly, securely, and conveniently with the new AirePoint credit card reader attachment.
Global Tek Labs is partnered with several Merchant Service Providers and Independent Sales Organizations to distribute the AirePoint and to establish merchant processing accounts for businesses. For a limited time, the ezPOS app is free with purchase of the AirePoint.
The AirePoint credit card reader attachment for iPads; the perfect card processing solution for the mobile entrepreneur.
###