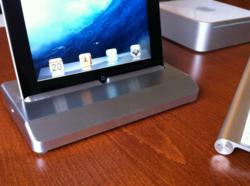 Our Ergo Dock is the solution for low quality docks made from cheap plastic that have issues docking, undocking, charging and syncing. The funding will be a significant contribution to making this new product a reality
(PRWEB) February 22, 2012
Since designing the Ergo Dock last year, ATC Gear has been overwhelmed with interest from the Apple community wanting an iPad/iPhone docking station that is built to a higher standard. After successfully testing the prototype, the resounding question on everyone's mind is "When will the Ergo Dock be available for purchase?" The ATC Gear team is now going big with the Ergo Dock and has turned to Kickstarter to bring this to market.
"Product innovation and development is a big investment for a growing company like ATC Gear," commented Wilson Mak, managing director and co-founder of ATC Gear. "Kickstarter offers a great way for us to involve the community with our innovation so iPad/iPhone-lovers are able to pre-order the product and be the first to enjoy it. The funds raised in this campaign will literally kick-start production of the Ergo Dock everyone has been waiting for!"
Kickstarter is the world's largest funding platform for creative projects. Every week, tens of thousands of people pledge for products and experiences specific to each project. ATC Gear recognized Kickstarter as a unique way to launch its newest product. There are several pledges at different price points to choose from, and this is an exclusive opportunity to pre-order the Ergo Dock before it is released into the market. There are pledge levels that have something extra in commemoration to the visionary himself.
"Our Ergo Dock is the solution for low quality docks made from cheap plastic that have issues docking, undocking, charging and syncing. The funding will be a significant contribution to making this new product a reality," said Cory Kennedy, lead designer and co-founder of ATC Gear "Prototypes are done, designs and quotes are in. Our next step is to tool up and start production with local manufacturing companies."
The Ergo Dock is an ergonomic docking system for Apple iPads/iPhones. It is made from aircraft grade 6061-T6 aluminum and bead blast finished like the Apple products everyone is accustomed too. Not only does it look good it is also extremely functional. This is the very first aluminum docking station that is ergonomic. The ergonomic viewing angle is adjustable for the perfect view. Docking and undocking is easy with the streamlined 30 pin connector. It flawlessly charges and syncs as if Apple made it themselves. With video conferencing applications like Facetime the audio acoustics are superb, crisp and clean.
For more information about ATC Gear's Kickstarter project, see it online at http://kck.st/xSqyoj.
About ATC Gear
Based out of the Pacific Northwest, ATC stands for Adaptive Tech Components. In today's digital age, ATC Gear strives to bring innovative products to market. Every attention to detail from functionality, fit, and form are taken into account from design all the way to production. Their vision is to bring the best possible products to market using local resources for manufacturing, tooling, secondary processes and distribution. Every dollar that stays in the local northwest makes a difference.
For more information about ATC Gear please visit http://atcgear.com. Like us on Facebook: http://www.facebook.com/atcgear. Follow us on Twitter: @atcgear
Media Contact
If you would like more information or to schedule an interview with ATC Gear, please call Wilson Mak on +1 (888) 518-0618 or email wilson(at)atcgear(dot)com.
###