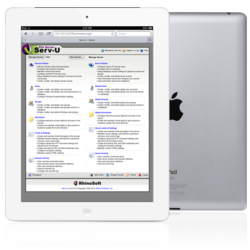 Serv-U's iPad management console finally let me leave the office for lunch again.
Helenville, WI (PRWEB) May 30, 2012
When RhinoSoft released version 12 of its popular Serv-U FTP server earlier this month, it included a management console for the Apple iPad. IT administrators quickly took notice.
"Serv-U's iPad management console finally let me leave the office for lunch again," said Daniel Thomas, transmissions specialist for a large regional bank. "It's not like I'm going to take my laptop to Chili's, but reset a user from my iPad? No problem!"
According to Product Management VP Jonathan Lampe, all FTP server management console functions supported by Serv-U's existing web interface are now supported on iPads with iOS version 5.0 or greater.
"Serv-U tends to lead the FTP server industry through innovation, including recent support for IPv6, mobile transfers, and native 64-bit computing," said Lampe. "So it's no surprise that many of our Serv-U administrators prefer to configure and monitor their FTP servers from their tablets."
iPad FTP server management is included at no extra charge in the Serv-U Gold and Serv-U Platinum editions. Communications between iPads and the Serv-U FTP server are secured using FIPS 140-2 validated cryptography and use firewall-friendly HTTPS.
In addition to new iPad administration capabilities, Serv-U already supports secure file transfer and online document viewing on Apple's iPad, iPhone and iPod and other mobile devices such as Google's Android phones, Amazon's Kindle Fire and RIM's BlackBerry.
Together, Serv-U's mobile capabilities allow companies and government agencies to adapt to workforces and customer bases that increasingly depend on tablets and smart phones for critical business communications. Serv-U also helps agencies and supporting contractors implement President Obama's recent National Wireless Initiative, which calls for key federal services to be made available on mobile devices.
RhinoSoft (RhinoSoft.com) is the global leader in affordable file transfer, with more than 90,000 business customers, including nine of the Fortune 10, in 90 different countries. Its award-winning and U.S. Department of Defense-certified Serv-U FTP Server and FTP Voyager client products support FTP, SFTP, FTPS and web-based HTTP/S secure file transfers over FIPS 140-2 validated channels while continuing to incorporate emerging technologies such as mobile computing, IPv6, native 64-bit computing and UTF-8/Unicode internationalization.
iPad®, iPhone® and iPod® are registered trademarks of Apple, Inc. Android™ is a trademark of Google, Inc. Kindle™ is a trademark of Amazon, Inc. BlackBerry® is a registered trademark of RIM, Ltd. Serv-U® and FTP Voyager® are registered trademarks of Rhino Software, Inc.