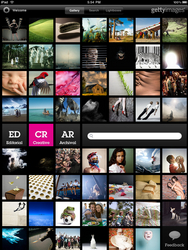 The iPad is an unparalleled platform for displaying and interacting with digital media, and enables Getty Images to provide a powerful combination of the world's best imagery and industry leading search technology through a mobile device
Seattle (Vocus) June 18, 2010
Ubermind, leading developer of next-generation mobile apps, today announces the release of client Getty Images' free iPad app, creating a new era of convergence between creative and media professionals and today's powerful mobile technology. This app marks developer Ubermind's third major iPad app launch.
The Getty Images app brings the same powerful search capabilities of the Getty Images web site to a new and exciting user experience, designed exclusively for iPad. Creative and media professionals can harness the power of Getty Images' entire collection of over 24 million creative, editorial and archival images, whether in the office or on the go, completely by iPad.
Other features of the Getty Images app for iPad include:

Shake the iPad to see random search results
Compare up to four images side by side to find the perfect shot for a project
Scroll through thousands of images in seconds
Sign in to your Getty Images account to save images to existing lightboxes or create new ones – in real time
Add voice recordings to lightboxes
Share lightboxes, single images or multiple images with others via email
"The iPad is an unparalleled platform for displaying and interacting with digital media, and enables Getty Images to provide a powerful combination of the world's best imagery and industry leading search technology through a mobile device," said Steve Heck, chief technology officer and senior vice president at Getty Images. "With this application, we're providing our customers with access to imagery whenever, and more importantly wherever, they're inspired."
Getty Images and Ubermind are also collaborating on a similar free app for iPhone, which is planned to debut in the coming months. Together, these apps highlight Getty Images' commitment to being a source of thought leadership and innovation to the stock imagery space. Getty Images for iPad simplifies the way creative and media teams can interact with the industry's richest collection of award-winning creative, editorial and archival imagery.
The Getty Images app is available for iPad as a free download from the App Store. Visit gettyimages.com/ipad to learn more about Getty Images for iPad.
About Ubermind:
Ubermind, Inc. is a full-service software engineering firm and leading app developer for the iPad, iPhone, and Android platforms. With over a decade of experience working on large mission-critical enterprise systems, Ubermind is uniquely equipped to handle all stages of large mobile app and web development projects completely in-house. To learn more about Ubermind, visit ubermind.com.
About Getty Images:
Getty Images is a leading creator and distributor of still imagery, footage and multimedia products, as well as a recognized provider of other forms of premium digital content, including music. Getty Images serves business customers in more than 100 countries and is the first place creative and media professionals turn to discover, purchase and manage images and other digital content. Its award-winning photographers and imagery help customers produce inspiring work which appears every day in the world's most influential newspapers, magazines, advertising campaigns, films, television programs, books and Web sites. Visit Getty Images at gettyimages.com to learn more about how the company is advancing the unique role of digital media in communications and business, and enabling creative ideas to come to life.
Media Contact for Ubermind:
Ryan Peterson
Director, Marketing
Media Contact for Getty Images:
Molly McWhinnie
Public Relations Manager for the Americas and Asia Pacific
(206) 925-6054
###