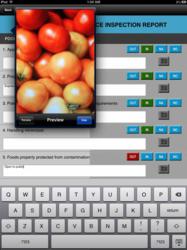 Cost justification during February is simple, as the savings exceed the costs of the mobile tablet hardware needed to run the software.
Orange County, California (PRWEB) January 30, 2013
Inspect2GO is offering discounts on its health inspection software. The software is available for iPad, Android and Windows tablets. Cost justification is made easier through Inspect2GO's discount program in February. Customers are able to apply the savings on software toward the purchase of the mobile devices needed to run the software. The software is suitable for a wide range of health department inspection needs. Brochures and video examples may be viewed at http://www.inspect2go.com/ehs/.
The discount program ends February 28, 2013. Discounts only apply to city/county health departments located within California, Florida and New York. The software is not available in app stores. Clients contact Inspect2GO directly (http://www.inspect2go.com/) for software pricing and installation.
HEALTH INSPECTIONS
■Retail Food Establishment
■Temporary Food Service
■Consumer Health
■Playground
■Childcare
■Property
■Pool
■Pest
■Wholesale Food
■Food Processing
■Nursing Homes
STANDARD FEATURES
■ Native – Data Entry without connection
■ Search/Prefill Establishment Info
■ Numerical Calculations/Scoring
■ iPad, Android, Windows Tablet
■ Corrective Action/Violation
■ Report and Data Storage
■ Electronic Signatures
■ Print Hardcopy Onsite
■ Email PDF Reports
■ Logo
■ Photos
ADVANCED/CUSTOM FEATURES
■ App Data Sync to Cloud Database
■ Web Admin Login Panel
■ Data Filtering/Trending/Graphing
■ Schedule/Map/Plan Routes
■ Sort Violations/Complaints
■ Reference Health Code
■ Custom Reporting
■ Document Management
■ Manage Accounts
■ Manage Permits
■ Manage Payments and Invoices
MOBILE DEVICES
■ Apple iOS – iPhone and iPad
■ Android – Samsung Galaxy tablets and phones
■ Windows Phone 8 – Smartphones and tablet PCs
ABOUT INSPECT2GO
Inspect2GO, Inc. is a mobile application, cloud database and software development company based in Southern California. The firm's mobile technology includes inspection checklists and native apps with signature capture, photo taking and data collection functions. Custom audit rating and scoring functions are included. PDF inspection reports are generated from the mobile device, or from data stored on cloud servers. The software is compatible with Apple iOS (iPhone, iPad), Windows 8 mobile devices and Android tablets. Inspection results are sent to Inspect2GO's cloud database, or to customers' servers for storage. Advanced features include data charting, graphing and document management. Reports, trends and data feeds can be retrieved from the cloud server via a browser-based web portal. The software is not available on iTunes or the Android Marketplace. Instead, customers contact Inspect2go directly to have the software tailored to meet their unique needs.