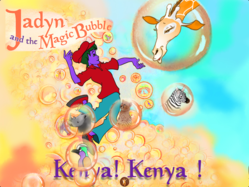 The story spans 23 pages and teaches children all crucial character traits such as respect, generosity, tolerance, compassion, non-violence, social responsibility and multicultural friendship.
Los Angeles, CA (PRWEB) August 15, 2012
Written by LA-based author Brigitte Benchimol, Kenya Kenya chronicles the remarkable adventures of Jadyn, who is transported to the wilds of Kenya through his magic bubble. There he befriends a giraffe called Gigi, who takes him on a fun-filled safari through the Savannah, unraveling the mysteries of the animal kingdom, and the truth about the uncertain future facing many species.
The app is a fully animated story aimed at children aged between 6 and 12-years-old teaching them how to live consciously. Loaded with interactive features, the app is full of fun and educational activities.

The story addresses essential curriculum subjects such as Reading, History, Geography, Social Studies, Science, Imagination and Art.
A digital coloring feature that allows children to color the Kenyan landscape and animals with their fingers.
An option for audio-only narration of the story. This will help younger children with their active listening skills. The read-only setting will encourage literacy skills.
Adults (and children) can record their own narration of Kenya Kenya and play it back to their children in their own voice and language.
Priced at USD $5.99, the app is a fantastic way to entertain, educate and stimulate children's minds.
"The quote in the book, 'You have the power to hurt or you have the power to help' sums up why we did the app. At FamCom Inc. we are passionate about the environment and wanted to create an app teaching children how to respect and preserve it," says Karm Khanna, CEO of FamCom Inc.
The app is available for download at all online iTunes stores globally. A video review of the app by DailyAppShow is available on YouTube here.
To find out more about the author, the Jadyn series and FamCom please do not hesitate to contact me. If you would like to review the app we are happy to forward the codes for a free download.
Karishma Vyas
FamCom Head of Communications
New Delhi, India