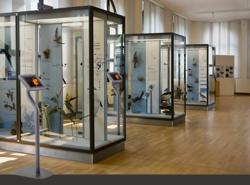 Beyond the corporate and retail spaces that have taken quickly to tablet display systems, museums are a natural fit for this type of interactive technology
Waterloo, Ontario (PRWEB) October 23, 2012
Armodilo Display Solutions had the opportunity to showcase its tablet display systems at the OMA Conference on October 17 – 18 with great interest and feedback from many of the delegates and exhibitors alike.
"The feedback and enthusiasm from the delegates was outstanding," says Iles Guran, Founder and CEO. "Beyond the corporate and retail spaces that have taken quickly to tablet display stands, museums are a natural fit for this type of interactive technology. As with so many other organizations, museums are extremely contentious of their budgets and want to find elegant solutions to engage with the public in a cost effective way. Our products provide that solution, are designed to fit any installation, offer future upgradability with our Tablet Fit Kit™ design and are cost competitive", adds Iles.
Beyond the elegance of the display systems themselves, Armodilo tablet display systems offer additional benefits that conventional interactive kiosk systems simply can't. "We offer a small footprint, lightweight, theft deterrent way to display touchscreens (tablets) in a variety of environments, offering our clients a simple way to scale interactivity from day one." says Iles. "You can start with a simple and low cost application such as Presentation Link and build an interactive application in a matter of hours, or you can have a custom built application with remote management software such as MokiMobility to manage hundreds of tablet systems remotely. The beauty of these types of systems is that they scale to organizations of any size and can easily be customized to suite individual needs."
Beyond the simplicity of installation and deployment, maintenance is another key benefit to using the Armodilo's iPad Kiosk or Tablet Kiosk. "No longer do you require complex hardware or software to create interactivity. If there's a problem with the tablet, virtually anyone has the know-how to either fix the problem or simply replace the ailing tablet with another until the situation is fixed. This keeps the interactions in operation which is what organizations are looking to provide."
Armodilo is the only company to provide a patent-pending Tablet Fit Kit™ with every one of its display systems. The Fit Kit™ can be swapped out in the future for other similar sized tablets if they are required for the same installations, ensuring that you never have to replace your entire display system when upgrading few or all of your exhibits.
About Armodilo Display Solutions
Armodilo Display Solutions is an award-winning tablet display manufacturer located in Ontario, Canada. With a variety of tablet display stands and accessories for trade show, event, retail and corporate markets, Armodilo sets itself apart by creating highly refined products for discerning brands around the world.
For more information about Armodilo, contact:
Iles Guran Founder & President at Armodilo Display Solutions
sales(at)armodilo(dot)com / 1-800-975-5946