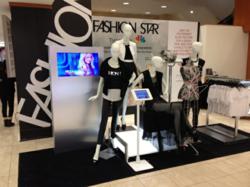 "Getting that touch interaction right in front of your customers is a great way to increase their engagement and focus", Michael Rose, TUAW.
San Francisco, CA (PRWEB) April 11, 2012
Who will win the big prize? Fans of the new reality series "Fashion Star" on NBC can hardly wait to find out. This unique design show offers merchandizing contracts to each week's winners, with a $6,000,000 contract as the grand prize. The winning designs are available the next day in stores, using the Lilitab iPad kiosk at select Macy's.
Supermodel Elle Macpherson hosts the program with a panel of fashion mentors: Jessica Simpson, Nicole Richie and John Varvatos. Viewers get instant gratification, and the hottest new styles, by being able to purchase their favorite contestant's clothes the very next day.
The Lilitab iPad kiosk is an affordable and portable tablet computer display enclosure. Lilitabs can be found at Macy's in Los Angeles (the Beverly Center), San Francisco (Union Square), Manhattan (Herald Square), Costa Mesa (South Coast Plaza), Miami and Chicago (State Street).
Retailers everywhere can engage their customers using the same secure iPad self-service kiosk. Customers are able to research-and even purchase-special orders, unique sizes, and back-ordered items while in line, using the Lilitab Standard with integrated optional belt barrier. The Lilitab Swipe head unit offers the most tightly integrated magnetic-stripe reader for any iPad kiosk, without exposed cables or flimsy attachments susceptible to damage or credit card fraud.
The Lilitab iPad kiosk was recently reviewed by Michael Rose with TUAW (The Unofficial Apple Weblog). "The Lilitab iPad kiosk hits the mark on price, simplicity", writes Rose. "Rule #1 of iPad kiosks is, of course, make sure we don't lose the iPad. That's among the strengths of Lilitab's kiosk line."
Tablet security is top-of-mind throughout the design of the Lilitab, without giving up ground on ease of assembly, looks, or price. A choice of face plates with or without a camera opening or home button pinhole, lock in the chosen app or web site for total control over customer access and interaction.
Lilitab iPad kiosks are created by Lilitab LLC, a San-Francisco-based kiosk and tablet computer accessory design company. Branding services and custom attachments are available for any tablet computer and the entire line of Lilitab iPad kiosks.
Lilitab iPad kiosks, in conjunction with NBC's new reality series "Fashion Star", are being used in Macy's across the country to engage fans to purchase winning designs in store only one day after the episode's airing.