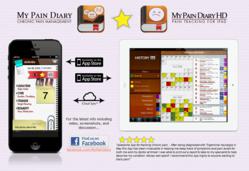 iCloud sync means users can create entries on their iPhone, and the data will be waiting for them on their iPad - and vice-versa.
Columbus Ohio (PRWEB) October 23, 2012
The long awaited iPad version of the popular pain tracking iPhone app, My Pain Diary, is now available in the iPad App Store.
My Pain Diary HD for iPad helps patients and sufferers of chronic pain and illness track their pain and report it to their doctors and caretakers.
Created by a chronic pain patient, My Pain Diary HD (MPDHD) places a premium on ease-of-use and customization. MPDHD has the same notable features as the iPhone version, such as Automatic Weather Tracking, Photo Attachments, and the ability to track and compare multiple chronic conditions within one app.
Popular features include:
iCloud Support: Devices running iOS6 can take advantage of iCloud sync. This will keep users' data in sync across all of their devices without any effort from them.
Automatic Weather Tracking: find correlations between pain / symptoms and the weather. MPD automatically saves weather info with each diary entry.
Track Multiple Conditions: No more switching apps to track different conditions. MPD can track and compare an unlimited amount of chronic conditions. This allows patients and their doctors to look for correlations between, for example, mood and headaches.
Photo Attachments: Sometimes a picture is worth a thousand words. Attach up-to 3 photos with captions to each entry. This is a great way to document swelling, rashes, skin discoloration, environmental factors and more.
Editable Pain Scale Descriptions: MPD comes with a pretty good default pain scale. However, users should consult with their doctors and replace it with their pain scale.
Color Coded Calendars: The green, yellow, and red days in the calendar communicate the user's history at a glance.
Editable Entries: Edit any entry at any time.
Graphs: Plot any piece of information on the graph to find trends and correlations. Compare up to three metrics and one weather metric at once!
Doctor's Reports: Patients can generate custom PDF reports to share with their doctors or to archive in a filing cabinet.
Private Entries: Flag an entry as 'Private' and it will NOT show up on a Doctor's Report.
Reminders: Keep consistent entries with the help of the built-in reminder system.
Passcode Lock: Get an extra layer of security by locking MPD. A 4-digit pass will be required to access the data.
Dropbox Backup: Another option for backing up data.
Powerful yet easy to use: A premium is put on user experience. MPD is quick to learn and powerful enough to track just about anything.
ABOUT DAMOLAB LLC
Based in Ohio and consisting of just one member, DamoLab LLC develops innovative chronic pain tracking and reporting solutions for mobile devices.
ABOUT MY PAIN DIARY
My Pain Diary (MPD) is an award-winning iPhone app and an iPad app developed to eliminate some of the overhead in keeping a pain diary and communicating the information to healthcare professionals.
MPD takes the traditional practice of documenting the severity and frequency of one's pain and marries it with the iPhone and iPad, taking full advantage of the technology therein. Popular features include live weather tracking and PDF doctor's reports.
Visit ChronicPainApp.com for a full list of features, user reviews, and more.
Media Kit: http://chronicpainapp.com/media.php