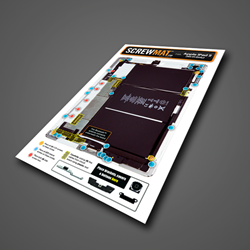 The LCD screen repair for the iPad 2 can be a difficult task. The ScrewMat helps the repair technician accurately keep track of the extensive number of small screws and pieces within the iPad 2 WIFI
Tulsa, OK (PRWEB) December 10, 2013
ScrewMat.com has released a new series of ScrewMats, including the ScrewMat for iPad 2 WIFI. The ScrewMat is a professional tool and magnetic guide that helps experienced repair technicians and amateur do-it-yourself repair customers accurately disassemble and reassemble their own iPad 2 tablet.
"The LCD screen repair for the iPad 2 can be a difficult task. The ScrewMat helps the repair technician accurately keep track of the extensive number of small screws and pieces within the iPad 2 WIFI," said Tony Baker, Strategic Consultant for ScrewMat.com. "The ScrewMat for iPad 2 WIFI saves time and money for out of warranty repairs, and that makes the ScrewMat extremely valuable." Said Baker.
The ScrewMat for iPad 2 WI-FI is one of the most recent in an expanding variety of magnetic repair guides by ARI INC. ScrewMats(R) are also available for a variety of other models, including:

ScrewMat for iPad 2 WIFI
ScrewMat for iPad 2 WIFI + Cellular
ScrewMat for iPad AIR Wifi + Cellular
ScrewMat for Motorola Atrix HD
ScrewMat for iPhone 5S
ScrewMat for iPhone 5C
ScrewMat for iPhone 5
ScrewMat for iPhone 4S
ScrewMat for iPod Touch 5th Gen.
ScrewMat for Galaxy S3
ScrewMat for Galaxy S4
ScrewMat for Galaxy Note 2
ScrewMat for Galaxy Note 3
The ScrewMat is currently available through a growing network of authorized dealers and wholesale part suppliers within the United States and around the world.
Leading authorized distributors in the United States include:
Phone Doctors
eTech Parts
Wholesale Gadget Parts
iExpertStudio
Wireless part and tool supply sellers are welcome to apply to become an official ScrewMat distributor by completing an application on the ScrewMat website.
For more Information, please visit: http://SCREWMAT.com.
About ScrewMat:
SCREWMAT was founded in 2010 to help cellular phone repair professionals and do-it-yourself amateurs efficiently and easily repair and replace parts within cellular phone, smartphone, and handheld mobile devices.